British Real Estate: Growing Allure Among Indian Buyers
Indian buyers' interest in purchasing property in the United Kingdom has significantly increased in recent years. This growing tendency can be traced to the complex interaction of economic, educational, cultural, and geopolitical forces that together shape the investment landscape. This growing interest is significant for the world real estate market, but it also reflects a wider shift in India's society and economic dynamics.
Historical Ties and Shared Culture: A Solid Foundation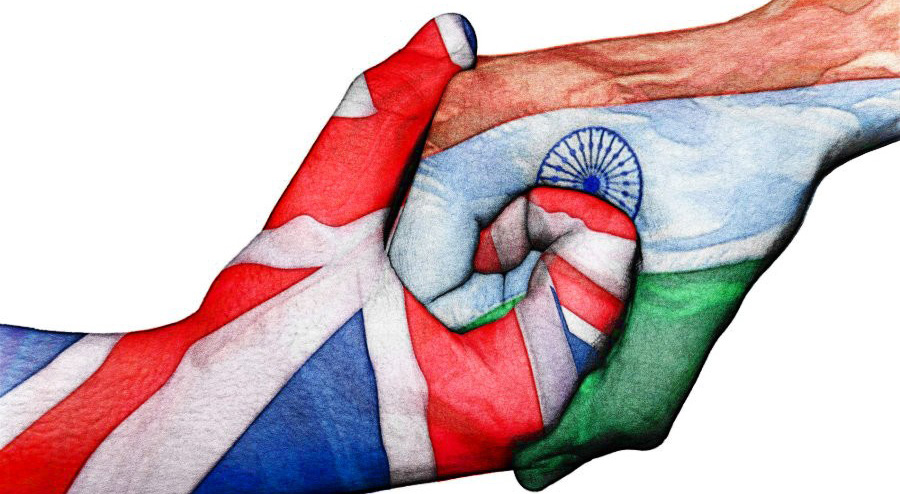 Despite having colonial roots, India and the UK have a long history together that has given Indian investors a sense of familiarity. Cross-border investment-friendly conditions have been created as a result of common languages, well-known legal systems, and institutional practises. Additionally, the colonial era's long heritage of educational and professional networks continues to shape choices, making the UK an alluring option for Indian professionals and students alike.
Aspiration and Education: The Allure of the UK
The prestigious reputation of the UK's universities continues to draw Indian families seeking top-notch higher education. The appeal of buying property close to these establishments is undeniable because it offers convenience and security to students looking for a rich educational environment.
Diversification and Wealth Preservation: A Clever Move
British real estate offers several options for Indian investors looking to diversify their portfolios outside of domestic markets. This asset class fits perfectly with the Indian investment philosophy thanks to its historical record of steady capital growth. The draw of consistent rental income and prospective growth frequently outweighs the instability that comes with other investing options.
Investing and Global Mobility: Beyond Geopolitical Boundaries
Purchasing property abroad opens the door to international movement, with particular investment thresholds perhaps opening up residency or citizenship options. Indian investors that want to embrace increased global connections while hedging against geopolitical uncertainty are attracted to this idea.
Real Assets and Tangible Value: A Safe Haven for Investment
Indian consumers can further diversify their portfolios by investing in real estate, which extends the benefits of tangible assets beyond traditional financial instruments. In light of the recent volatility in the stock market, this is particularly intriguing.
Currency Trends and Investment Opportunities
Even before taking property value appreciation into account, the possibility of a higher British pound against the Indian rupee presents the prospect of capital gains in a world where currency exchange rates play a crucial part in investment decisions.
Possessing a Piece of the Global Metropolis's Legacy and Prestige
In addition to exuding status, investing in real estate in a major international city like London also offers the potential to pass on generational riches. For wealthy Indian families, the idea of a "safe haven" investment—one that can withstand market fluctuations—holds particular appeal.
Culture and Lifestyle Immersion
In addition to providing financial benefits, owning property in the UK allows one to directly experience British culture, history, and way of life. Families who value travel and engaging experiences will find this very appealing.
Indians Dominate The London Real Estate Market
According to a recent article by The Financial Express, Indians have surpassed native English speakers as the largest group of property owners in London. Long-term UK residents, NRIs, investors, students, and families pursuing higher education in the UK are all included in this diversified community. In line with UK government data from 2020, which shows that 74% of Indian households own property, surpassing the 68% of white British households, Indian investors are prepared to invest between GBP 290,000 and GBP 450,000 for one- to three-bedroom apartments in London.
The Allure of London: A Mix of Factors
Indian investors are drawn to London for a variety of reasons, including the city's cosmopolitan appeal, pleasant climate, illustrious educational institutions, welcoming business environment, and familiar language. In addition, the sizeable Indian diaspora in the UK serves as an additional attraction, drawing more attention to British real estate.
London: A Global Centre for Investment
London's reputation as a worldwide financial, educational, and investment powerhouse increases its attraction to Indian homebuyers. Indian purchasers' confidence in real estate investment is attributed to solid market fundamentals, past investment trends, and attractive returns impacted by exchange rates, according to Stuart Leslie, international sales and marketing director at Barratt London.
Indian Homebuyers In The UK Are On The Rise After The Pandemic
Following the pandemic, there has been a noticeable increase in Indian families and students in the UK, which has led to an astounding 128% rise in Indian homebuyers. This increase is a result of the demand for nearly finished or finished projects, which perfectly captures the essence of timely possibilities.
Individuals with High Net Worth: A Major Force
It's important to emphasise that high-net-worth Indians actively contribute to this expanding trend by starting new enterprises or increasing current ones. Their interest in the UK is evidence of the many benefits it provides.
Economic, Cultural, and Investment Factors Converge in British Real Estate
An intricate web of economic, cultural, educational, and investment-related elements underlies Indians' growing interest in British real estate. This change denotes a crucial turning point in the dynamic world of international real estate investing.
Indian Investors' Strategic Move in Unveiling UK Real Estate
If real estate investing is on your mind, the UK offers Indian investors a unique route. You have the option to put down a deposit of about 25%, which you can use as collateral for the property, and then use rental income to cover your payments. Why this action is wise is as follows: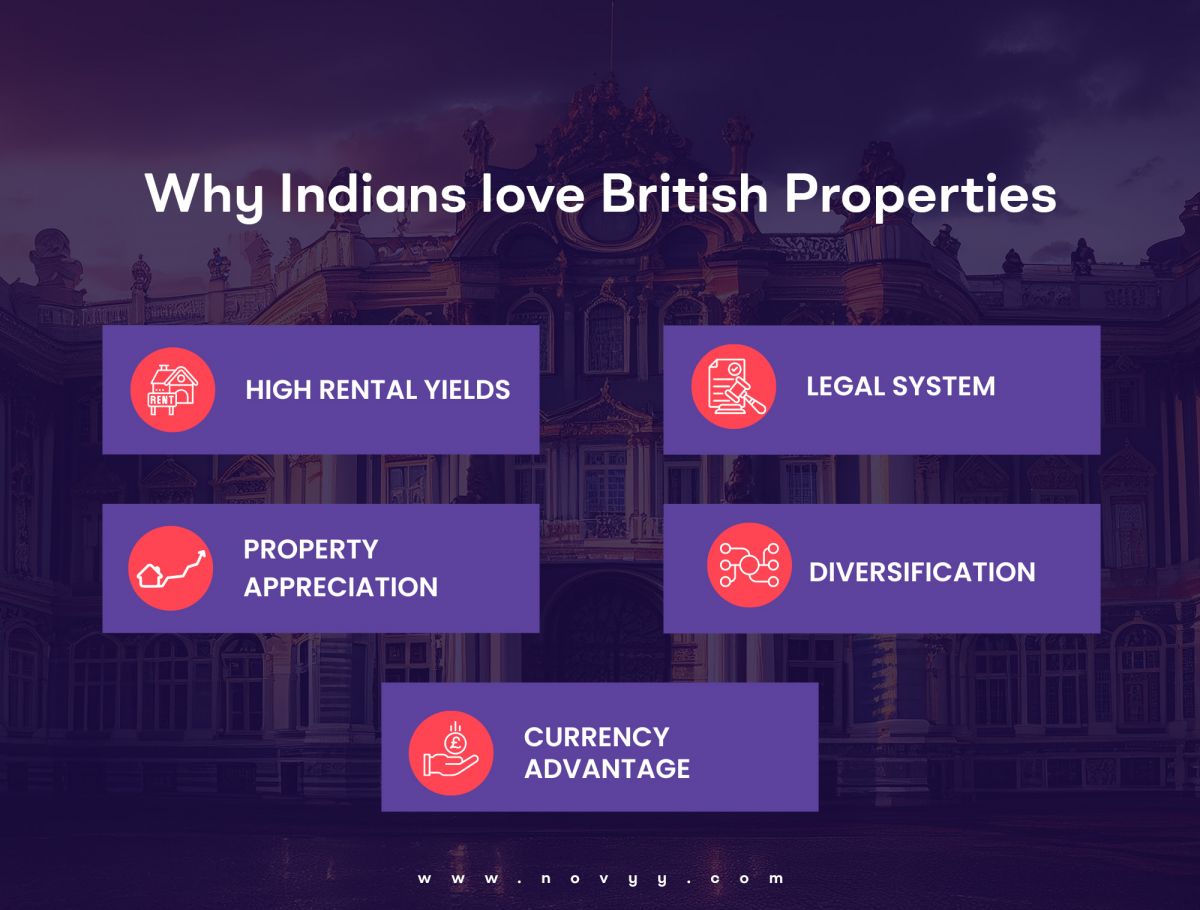 Legal System: Benefit from a strong legal system that protects your investment and ensures transparency and protection.
Property Appreciation: The maturity of the UK real estate market enusres continuous appreciation, offering a guaranteed path to long-term wealth building.
Diversification: Take advantage of the stability of the UK real estate market to successfully diversify your portfolio and reduce risk.
Currency Advantage: The historically lower value of the Indian rupee in comparison to the British pound increases your ability to invest and increases the worth of your money.
Novyy.com: Your Source for Global Investment Knowledge
Novyy.com is your best resource if you're looking for thorough information on overseas investing. We provide unbiased, open information on international markets to empower Indian investors. Our website gives you the tools to make educated decisions, free from bias and incentives, on everything from investment properties to residency programmes. Here is where your path to excellence in global investment will begin.
To sum up,
The sharp increase in Indian interest in British real estate is evidence of the complex interplay of forces influencing trends in international investment. The UK has been positioned as a beacon of opportunity for Indian investors because of the historical linkages, educational appeal, and variety of investment rewards that have come together.
As historical ties and contemporary aspirations mix, British real estate's stability and expansion potential attract Indian buyers. Each element, from strong rental yields to asset preservation, adds to the attractive investment story.
For individuals navigating overseas investments in this environment, novyy.com acts as a compass and offers transparent insights. Indians are embracing the international investment scene as a group, paving the way for success and making an enduring mark on the real estate industry.