Case Study: An Indian Family's UK Property Strategy for covering International Education Costs
Although studying abroad can be enriching, it often comes with a hefty price tag for both tuition and living costs. This case study in point illuminates a unique strategy by an Asian family: leveraging rental income from a UK 'buy-to-let' property investment to fund a child's education and associated expenses as an international student in the UK.
Arjun, Ravi's son, had aspirations of attending Imperial College London, a renowned institution in the UK for its outstanding engineering programmes. Recognizing the hefty living and tuition costs in London, Ravi sought an investment strategy that would protect his principal while generating sufficient returns to fund Arjun's education.
British Tuition Costs
Ravi conducted research into UK university tuition prices. He discovered that depending on the institution, the field of study, and the duration of the term, course fees at public universities in the UK can vary significantly. Typically, 'home' students pay between 5,500 and 10,200 GBP in tuition each year. However, there is an additional fee for international students that typically ranges from an additional 3,000 to 8,000 GBP per year, in addition to the "home" cost. In other cases, the foreign rate could be two to three times higher than the local fee. Private universities, on the other hand, generally don't distinguish between students from the EU or EEA and those from outside of it, and their tuition costs are normally greater than those at public universities. Business and medical degrees are the most expensive at both public and private schools, with tuition at private institutions ranging from 5,000 to over 35,000 GBP per academic year.
Driven by the need for regular income to cover his child's tuition, Ravi evaluated various investment options, both domestic and international, spanning stocks, bonds, real estate, and mutual funds. After weighing their pros and cons, he concluded that a UK real estate investment would deliver steady monthly rental income and potential long-term appreciation. This strategy he felt may safeguard his capital while comfortably covering his child's educational expenses.
However, residing in India while contemplating investments in the UK presented Ravi with a series of challenges and lingering questions. For example, he sought answers to the following queries:
What are the circumstances of the UK real estate market right now, and is it a good time to make an investment?
What is the average rental yield in the area you are considering? (Rental yield is the annual rental income expressed as a proportion of the value of the property.
Do you need to account for any other expenses, such as property taxes, maintenance expenditures, or management fees?
What kind of tenants are most likely to be interested in your property, and what is the potential rental demand in the area?
How much rental income can you actually anticipate making after deducting all costs?
Are there any limitations or rules governing foreign investors purchasing real estate in the UK?
Are there any possible risks associated with currency exchange if the rental revenue needs to be transferred back to your local currency?
What are his financing alternatives, what are the interest rates, and what are the terms of repayment?
Should he consult with a tax advisor to understand the tax implications both in the UK and in his home country?
What is the long-term investment strategy, and how does this property fit into it?
Securing trustworthy answers proved difficult, prompting Ravi to turn to professionals—a real estate investment firm capable of shouldering the burden and managing the process. Despite consulting multiple firms, none met his expectations. Then he discovered Novyy. The services and features they offered to clients exceeded his anticipations, leaving him thoroughly impressed.
Novyy responded to all of his inquiries. Novyy also helped him compare the property prices in other cities in the UK, as well as the rental yield and the possibility for property appreciation in various places. 
Additionally, Novyy suggested investment choices for Ravi. Ravi was convinced that investing in real estate in the United Kingdom was one of the most profitable ventures that would bring him a two-way profit. Here are a few strategies for buying UK real estate:
1. Serviced accommodations
Serviced accommodations are quite similar to fully furnished Airbnb rentals. This method lets you manage a hotel-like operation without personnel, unlike traditional buy-to-let models. Flexible rental prices boost cash flow and returns.
2. Student Accommodation
HMO Students and young professionals seeking shared living rent rooms in HMOs. This method can provide higher rental yields than buy-to-let for investors.
3.Commercial Real Estate
Commercial real estate has long leases, good tax status, and the potential for major expansion. Commercial real estate is stable and profitable for many sectors.
4. Buy-to-Let
Buy-to-let real estate entails renting residences to families for a steady income. Despite lower profits, buy-to-let investing is reliable and low-risk.
Ravi made the decision to move forward with buying property in the UK after carefully weighing Novyy's investment advice. He thought that investing in Houses in Multiple occupations (HMOs) could provide significant returns since he saw huge potential in the rental sector.
Ravi's decision to invest in real estate in the United Kingdom in the HMO sector turned out to be a successful venture, bringing him both regular rental income and a long-term increase in property values. With well-managed HMOs and a booming rental income this achievement inspired him to keep growing his real estate holdings and look into further investment possibilities in the UK market.
Here's how his numbers worked out: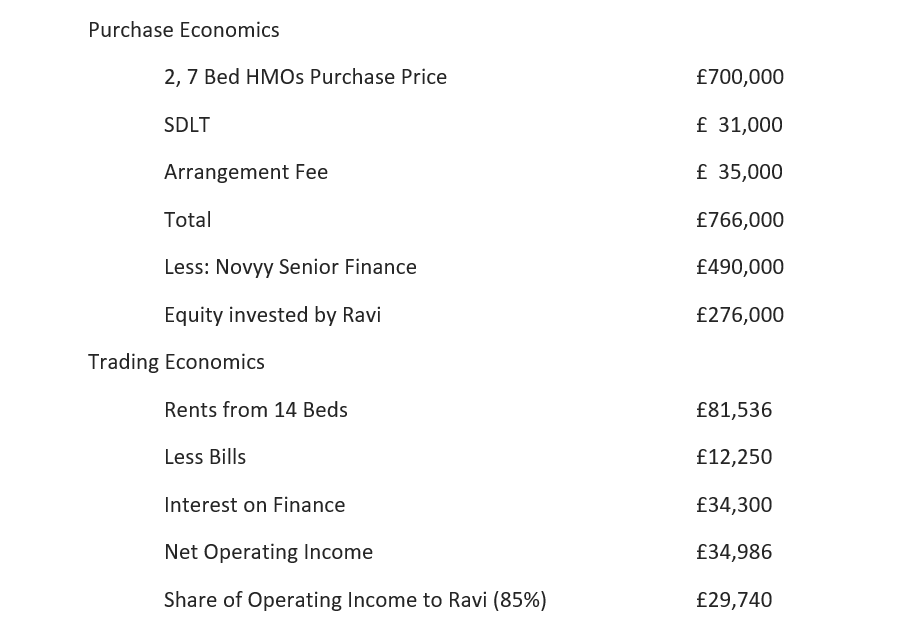 By investing £276,000, Ravi is able to achieve a net, pre-tax income of £29,740 which will grow over time as rents go up and energy costs come down. This represents an initial entry yield of 10.75%+
As a non-resident landlord, Ravi relied on Novyy's expertise to handle UK tax implications, optimising deductions for maximum benefits. At the end of the year, after deducting expenses and taxes, Ravi's total profit from the property was nearly £30,000, significantly offsetting Arjun's tuition fees and living costs in the UK
This collaborative partnership allowed Ravi to focus on his business in India while relying on Novyy to manage his UK property investment effectively. The mutually beneficial collaboration allowed Ravi to achieve his financial goals while Novyy generated revenue through their property management services.
In Summary, 
Ravi's strategic foray into the UK property market, using rental income to fund his child's tuition, blossomed into a successful venture. In Novyy, he found a reliable partner to unravel the complexities of being a non-resident investor. Novyy's all-encompassing services granted Ravi the peace of mind and clarity, freeing him to concentrate on his business in India.
This successful alliance exemplifies the power of astute real estate investments in generating immediate returns and building lasting wealth. The fusion of Ravi's dedication to his child's education and Novyy's commitment to optimizing the investment underscores the importance of judicious planning and expert assistance in reaching financial objectives.