Coventry: A Thriving University Town with Sky-High Demand for Student Housing
The top public research university Coventry University is located in Coventry, a vibrant university town in England. With roots going back to 1843, it has developed into the UK's institution with the fastest growth and the fourth-largest overall in the nation. The town also serves as the site for the University of Warwick. On its two campuses, Coventry University provides a wide variety of undergraduate and graduate programmes, including a London-based concentration in business and management degrees. The university has robust research facilities and received a Gold ranking from the Teaching Excellence Framework. Overall, Coventry is a dynamic academic centre that draws researchers and students from a range of fields. With over 40,000 students in town, Coventry is an ideal location for investment in student accommodation.
Insights into Increasing student enrollment and the need for more housing
Coventry's student population has grown by 43% from 2013–2014.
In Coventry, 64% of students lack access to purpose-built student accommodations (PBSA).
Since the start of 2017, Coventry's housing prices have increased 17%, surpassing growth in the larger West Midlands, London, and the UK market as a whole.
The city's average home price of £192,346 is 23% less than the national average.
Since mid-2014, Coventry's population has increased by 11%.
Between June 2015 and June 2019, the number of people migrating to Coventry climbed by 27%.
Coventry has a median age of 32.1 years, making it younger than both Birmingham and London.
Since 2013–2014, Coventry University's enrollment has increased by 43%, outpacing the UK as a whole by 9%.
The economy of Coventry is expected to perform better than much of the West Midlands.
By 2030, it is anticipated that the city's gross value added (GVA) will have increased by 17%, outpacing other local authority districts in the area.
According to data from the ONS, the city will need to build 18,742 new homes between 2018 and 2028 to accommodate its expanding population.
The average cost of a home in Coventry is £215 per square foot, while that figure is £203 in Birmingham and £217 in Leicester.
In Coventry, asking rents for a two-bedroom property during the third quarter of 2020 ranged from £811 to £1,195 per month for the top 10% of the market.
Large regional employers, including Jaguar Land Rover, Peugeot, and HSBC, contribute to Coventry's economy.
Coventry welcomed nearly 10 million tourists in a single year, bringing in £594 million, up 4.6% from the last year.
The advantages for students and investors of student housing in Coventry are as follows, per a recent Statista report: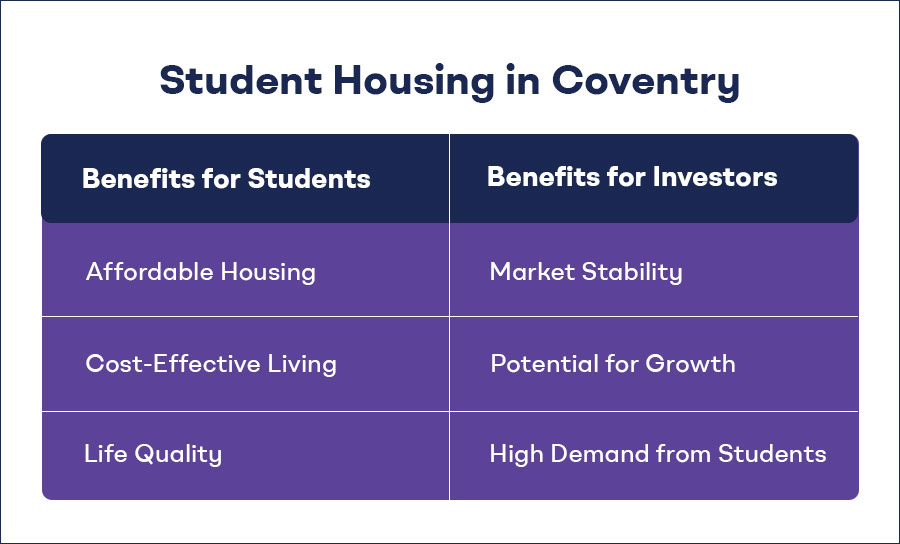 Benefits for Students
Affordable Housing
Coventry stands out as an exception, with a projected rent fall of 2.5 percent, despite the fact that rents for purpose-built student accommodation (PBSA) were expected to rise in many locations. For students looking for economical living choices during the academic year 2022-2023, Coventry is an appealing choice.
Cost-Effective Living
With rents for student housing in Coventry lowering, students may be able to save money on housing, which will free up more of their budget for things like tuition, books, and everyday living expenses.
Life Quality
Coventry has a thriving student body with a wide variety of academic and cultural opportunities. The anticipated drop in rent suggests that students can live well without sacrificing their housing requirements.
Benefits for Investors
Market Stability
Despite Coventry's anticipated rent fall, the city's general demand for student housing is still high due to its expanding student population and status as a university town. This makes Coventry's rental market favourable to investors looking for long-term investment opportunities. The 40,000+ student population makes a good business case for high occupancy rates.
Potential for Growth
Coventry's rental market is forecast to offer rental yields with a projected reduction of 2.5 percent, while some cities are enjoying moderate rental growth. This implies the possibility of future rent stabilisation and growth, providing an opportunity for investors to buy properties at a lower entry cost.
High Demand from Students
Since 2013/2014, Coventry's student population has grown by 43%, and many of these students are looking for housing in the private rental market. Due to the fact that 64% of students cannot access purpose-built student housing, there is a consistent demand for rental homes, giving investors access to a stable pool of prospective tenants.
Why is the Demand for Student Housing too high in Coventry?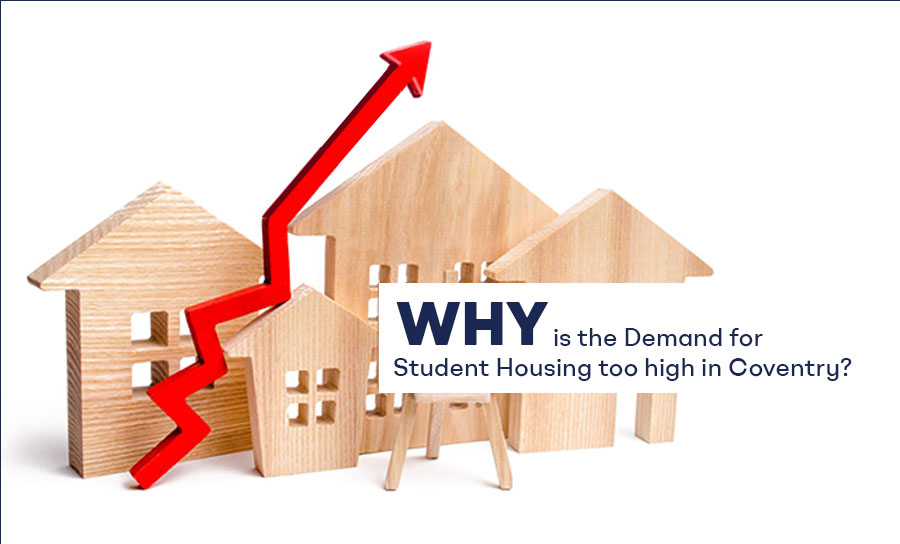 Coventry offers various alternatives for student housing. For example,
Campus Housing
In Coventry, "student housing" refers to apartments that were developed with the intention of serving university students. These accommodation alternatives are generally close to college campuses, which makes it simple for international students to get to their classes and university resources. Student housing consists of fully furnished apartments or dorms with shared living and kitchen areas. These features foster an active and welcoming community where students from various backgrounds can mingle and connect. International students can fully immerse themselves in university life and form lifelong relationships by residing in student housing.
Private Residences
Renting a private flat or a house is a desirable choice for both domestic and international students seeking more autonomy and privacy, especially after their first year. Coventry provides a variety of private apartments and houses in multiple occupation for rent in the city centre. Students have the option to select among these options based on their tastes and budget thanks to the variety of sizes and configurations available. Students who live in private residences have more freedom to design a unique living area that suits their needs. Living in a private residence allows students to experience Coventry from the perspective of a local while making use of the city's conveniences and attractions. There are a range of 2-3 bedroom flats, and 3-10 bedroom houses in and around the city.
University Hall
University halls, usually referred to as on-campus housing though some of the like the Singer Halls are a short walk away - these are homes that are owned and run by the university. The universities in Coventry offer a variety of university hall alternatives for students in the first year, providing a welcoming and inclusive environment on campus. The benefit of being close to academic facilities, libraries, and extracurricular activities when living in university residence halls is that it improves the overall university experience. University residence halls also offer social gatherings and other activities that facilitate students' early integration into the campus community. By selecting a university hall in the first year, students can live in a convenient and secure environment that promotes a strong sense of community and ties to the university.
In conclusion, 
Coventry offers a wealth of prospects for both students and investors as a dynamic university town. The city provides international students with a dynamic and vibrant living experience thanks to its continuously expanding student population and variety of accommodation alternatives. Coventry offers a variety of housing options to suit every student's needs and interests, including private homes, university halls on campus, and specially constructed student housing. Coventry appeals to investors as a long-term investment location due to its steady rental market and potential for future growth. Coventry has it all, whether you're an investor looking for a potential market or a student looking for a top-notch educational experience. Find out about Coventry's vibrant and friendly vibe today!