Choosing the Best Location for Your Student Housing Investment in the United Kingdom
Investing in Purpose-Built Student Accommodation (PBSA) is a time-consuming process that requires careful consideration of numerous issues. Below, we look at some points on selecting the best location for your student housing investment in the UK.
The most recent Student Accommodation Annual Report provides a complete examination of different areas of the student accommodation sector, including student demand, higher education investment, pricing trends, and more. This analytical study not only analyses statistics from the previous year but also includes a forecast for 2022–23.
Highlights include:
A Thriving Student Population: The academic sphere continues to thrive, with an astonishing 2.2 million full-time students enrolled in UK universities.
 Changing Study Patterns: There has been a significant increase in students choosing to study away from their hometowns, with a 221,990 student increase from five years ago.
Post-Pandemic Recovery: In 2021, the issuance of visas increased by an astonishing 80.7% compared to 2020, indicating a robust recovery from the pandemic's impact.
Rental Growth Projected: For the forthcoming 2022–23 academic year, average rental growth is expected to rebound to 3.1%.
Student-to-Bed Ratio: Over the last five years, the national student-to-bed ratio has increased to 2.39:1, representing an 8% increase in headroom.
Existing Bed Spaces: For the 2021/22 academic year, there were 175,910 non-refurbished first-generation bed spaces in operation in the UK PBSA market, demonstrating the sector's continued vitality.
Despite hurdles, the industry managed to produce 24,612 new beds during 2021/22, with an even more optimistic total of 17,000 new beds projected for the forthcoming 2022–23 period. The sector demonstrates tremendous resilience. Student enrollments have not only recovered but are also growing at an unprecedented rate. Rising rents and the improved global placement of UK institutions support this positive trend.
Certain obstacles, though, lurk. Supply shortages, rising resource costs such as steel, timber, and labour, and shifting geopolitical factors have all contributed to an increase in construction costs. Furthermore, rising energy prices are having a substantial impact on the sector's operational expenses. The issue of affordability continues to be important, impacting students' decisions about where to complete their studies as they consider the difference between the Maintenance Loan and the cost of living.
Number of full-time and sandwich students in the United Kingdom (UK), by accommodation, from 2014/15 to 2021/2022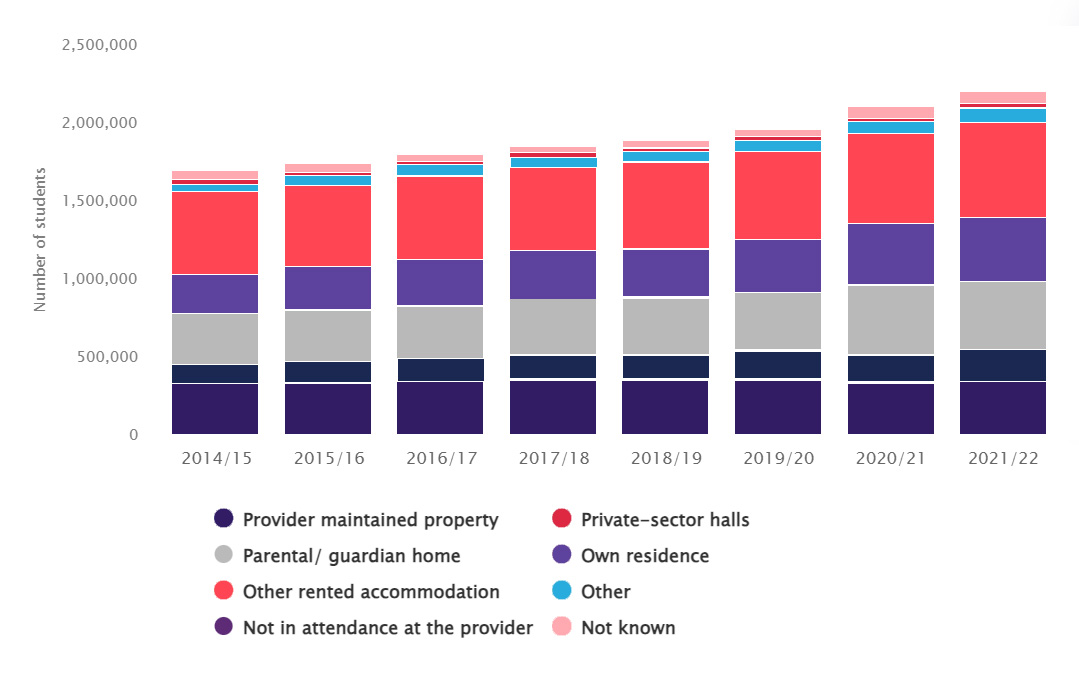 Source: Statista
The Best Student Property Investment Locations in the United Kingdom:
1. Coventry
Coventry's prominence as a university city, with institutions such as the University of Warwick and Coventry University, ensures that student housing is in high demand. The city's ongoing development and growing student population offer a favourable investment climate.
2. Liverpool
Liverpool, which is home to several prestigious universities, has a high demand for student housing. Investors can locate homes with returns of up to 8% and good rental yields, making it an appealing option.
3. Manchester
Manchester's five top universities, as a student hub, produce steady demand for student housing. Because of the high number of international students looking for quality property, it is an excellent alternative for investors.
4. Bristol
Bristol's rising student population outnumbers available housing, producing a significant demand for convenient housing. A scarcity of purpose-built student housing suggests possible investment opportunities.
5. Leeds
Leeds has a diversified tenant base due to its expanding student population and different educational offerings. The high demand for larger buildings as well as modest apartments creates an investment opportunity.
6. Birmingham
Birmingham, the UK's second-largest student city, has a paucity of purpose-built student housing. Positive rental growth, especially for ensuite rooms and studios, demonstrates the property's investment potential.
Key Elements to Think About When Entering the UK Student Housing Investment Market
Considerations for Important Locations
Choose premium locations close to both the town centre and the university campus. This convenience not only draws students but also increases the demand for lodging.
Supply and demand must be balanced
Analyse the supply and demand balance in your chosen location thoroughly. places with an overabundance of lodgings to prevent difficulty filling vacancies and lower rental income. Instead, look for places where need exceeds supply to ensure consistent demand.
The UK's Top Institutions for International Students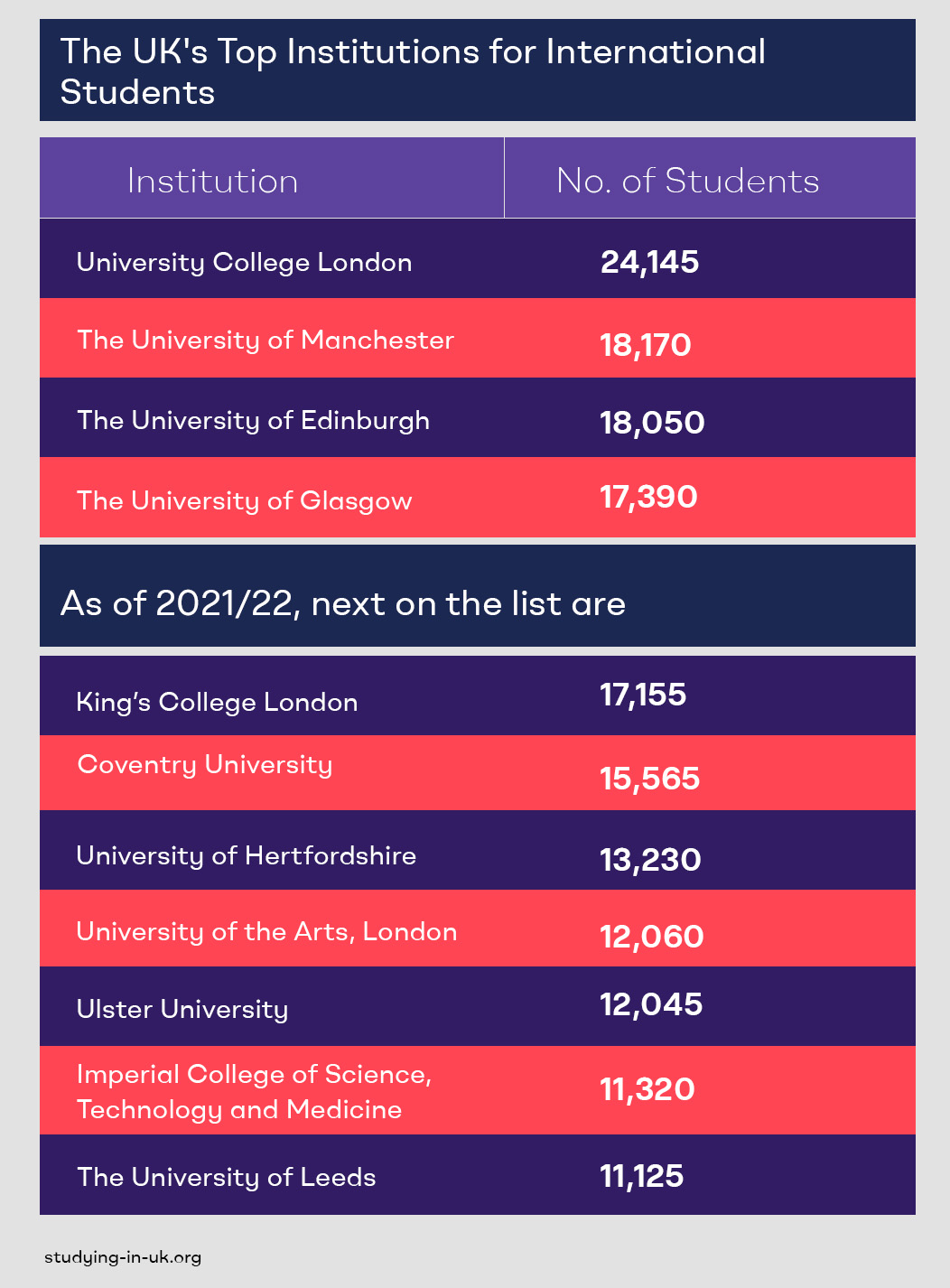 Forecasting Future Enrollment Growth
Examine the possibilities for future enrollment expansion. Consider the university's development plans and estimates for increased student intake to ensure long-term housing demand.
Yield and Affordability Calculation
Compare property prices and estimated rental income to determine the possible yield. Higher yields result in higher returns. To maximise the yield on your investment, look for places with competitive rental rates and low property prices.
Residential vs. Investment Focus
Distinguish between profit investing and home selection. While personal preferences may influence housing choices, investment decisions should prioritise optimal returns to capitalise on this profitable market.
In contrast to HMOs
In contrast to HMOs, PBSAs provide hassle-free management without the regular maintenance and repair fees associated with traditional leases. This benefit makes PBSA an appealing alternative for stable rental income.
Due Diligence and Research
Investigate the market, socioeconomic conditions, and potential dangers thoroughly. Approach PBSA investments in the same way you would any other real estate investment: prioritise rewards while minimising risks through well-informed decisions.
Northern Locations' Value
Consider investing in the northern regions, where property prices are lower. While properties in London are in strong demand, properties in the north provide superior value for money and good yields.
Opportunities for resale and adaptability
Although PBSAs do not provide instant equity release, their strong yields help you recoup your initial investment over time. Furthermore, the steady demand among students contributes to the strong resale market for PBSA buildings.
Student population size
Investing in a smaller community with fewer students may not offer significant profits. Consider the size of the student body and their lodging preferences. To measure demand, look at the growth rates and expansion plans of universities.
The Supply and Demand for Accommodation
Examine the current and planned student housing developments in the neighbourhood. A stable rental income requires a balance between supply and demand. Investigate the possibility of attracting new students, including overseas applications.
Concentrate on Growing Universities
Concentrate on universities that are experiencing increased demand. Russell Group universities are particularly appealing due to their high application numbers and reputation. Due to a lack of commuting options, international students make up a sizable demographic for purpose-built student housing (PBSA).
Date of completion
Timing is crucial. If you're thinking about starting a new project, make sure it'll be ready by the start of the school year in September. Failure to take advantage of this opportunity could result in vacancies and a loss of rental income.
In Summary, 
Investing in UK student accommodation requires careful analysis and strategic planning. The sector's robust student population, changing study habits, and strong post-pandemic recovery highlight its resilience. Despite obstacles such as supply limits and rising costs, demand for high-quality lodging remains robust. The best site is determined by variables such as proximity to campuses and town centres, balancing supply and demand, and carefully considering university rankings and enrollment estimates. The contrast between investing goals and personal preferences, together with research into PBSA choices and northern locations, can boost results. To capitalise on the potential of the UK student housing market, a full grasp of market dynamics, completion timescales, and student preferences is required.