Sustainability in Student Housing: The Vital Role of Maintenance for Wellness and Sustainability in the UK
Because of the shifting student demographics and the availability of housing, student housing has risen to the top of the priority list for UK universities. Up to 2030, higher education will be in greater demand, increasing housing strain, according to UCAS. Thus, it is essential to address these problems.
Universities should consider the effects of student living that extend beyond their facilities. Collaboration between regional universities is essential, particularly given the various demands of students.
Predictive models from Bournemouth University are one example of creative approaches that anticipate student housing demands. Cooperation between departments ties housing, hiring, and student welfare together.
Universities offer housing advice and address issues. Diverse accommodations are promoted through collaborative initiatives like the "Student Living Strategy" of Nottingham Trent University, the University of Nottingham, and Nottingham City Council.
Academic performance, financial stability, and overall wellbeing are all impacted by inadequate housing. NUS Vice President for Higher Education Chloe Field emphasises its significance. Student housing is improved through initiatives like the site development at the University of Glasgow.
Students have both practical and mental disruptions due to the lack of affordable housing. This briefing equips universities to successfully manage the complexity of student housing, ensuring a favourable housing experience for academic success.
A Concise Overview of Sustainability and Wellness Issues
The vital concerns of wellness and sustainability in student homes must change as the student housing landscape does. There is a growing need for environmentally and health-conscious housing in the current student market. Sustainability and wellness concerns have emerged as crucial aspects in determining the future of student housing as students become more conscious and proactive about their impact on the environment.
Housing for Students with Sustainability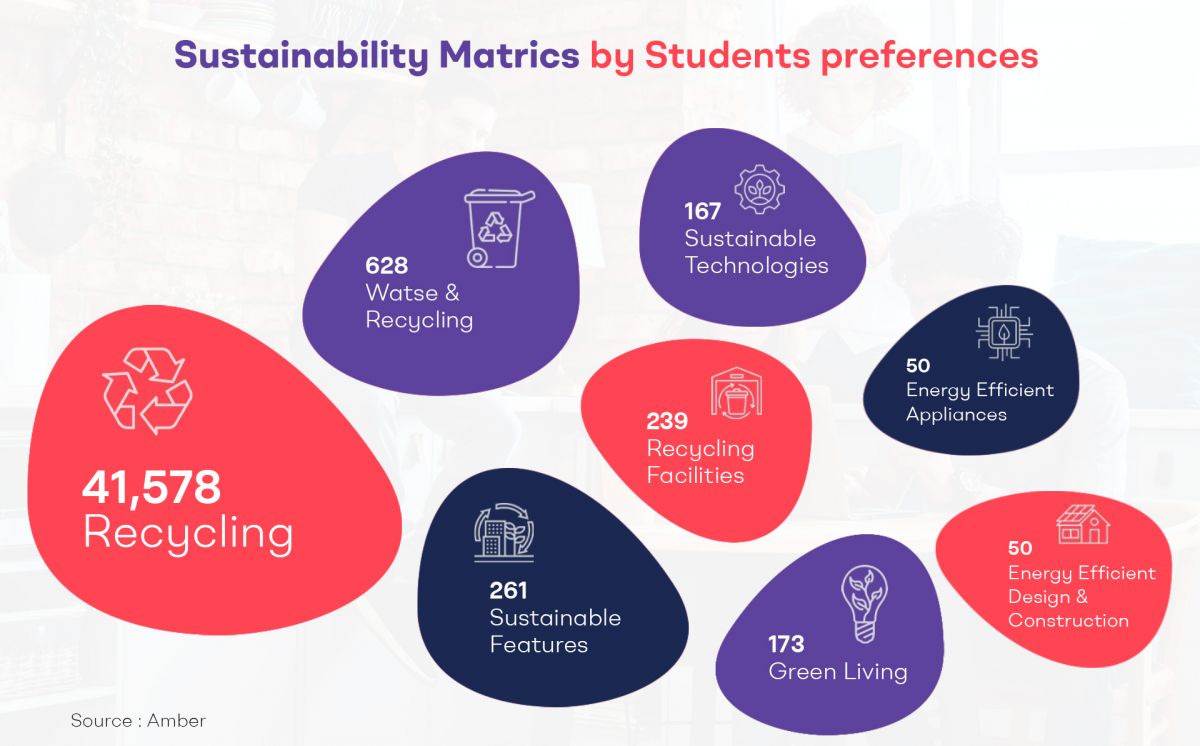 Sustainable Construction
The need for environmentally friendly housing has given rise to a significant trend in the student housing market. Property management companies are realising how important it is to build student housing with eco-friendly materials and methods. This helps lessen the ecological footprint of these homes while also fitting the preferences of the environmentally concerned student demographic.
Initiatives from the Government
Governments are taking action to promote environmentally friendly practises in the student housing sector. In order to reduce emissions, energy use, and pollutants, regulations and certification requirements are being implemented. Properties that satisfy certain sustainability standards are eligible for tax rebates. Government funding increases the financial feasibility of environmentally friendly student housing while simultaneously helping the environment.
Maintenance Loans and Affordability
Being sustainable involves more than simply protecting the environment; it also has financial implications. Rents may be lower for net-zero buildings with minimal energy use and emissions. Property managers can offer affordable housing alternatives that fit with students' tight budgets by including renewable energy facilities and other sustainable features.
Wellness in Residence Halls
Health-conscious Living Spaces
Concerns about wellness have sparked the development of health-conscious living spaces. Property managers are implementing features and design cues that support both physical and emotional wellbeing. This includes amenities like enhanced ventilation, lots of natural light, noise-cancelling measures, and accessibility to peaceful green places.
Community Well-Being
It is crucial to promote a sense of belonging among students living in residence halls. To promote social interaction, teamwork, and relaxation, common areas are beneficial to students' general wellbeing. These areas can aid in overcoming feelings of loneliness and enhancing the social component of dorm life.
Reducing the Carbon Footprint
The emphasis on wellness in sustainability also fuels students' desire to reduce their carbon footprint. Many students have a propensity for eco-friendly practises and are aware of how their decisions affect the environment. This wellness-focused approach is supported by student housing, which places a high priority on energy efficiency and environmentally friendly practises.
Key Insights for Navigating Student Housing Challenges
Learning About Student Deferrals: Despite the pandemic, student-housing-a-new-game in 2020, a slight rise from the 5.4% deferral rate in 2019.
Managing Booking Accommodation Uncertainties: After getting erratic A-level results, students cancelled and rebooked lodging amid uncertainty.
In Russell Group university cities like Manchester, Exeter, and Nottingham, housing issues are especially severe.
Enhancing the Flexibility of Accommodations
Lodging companies provided flexible booking options so that students could cancel without incurring fees.
Various student demands are met through extended tenancy choices, which range in length from 38 to 52 weeks.
Designing Wellness-Focused Amenity Spaces
Since providers are aware of how crucial both physical and mental health are, they give amenities top priority.
Health and safety measures are combined with open green spaces, community places, bike racks, and exercise centres.
Promoting Online Social Engagements
Student preferences for social gatherings are changing away from activities focused on drinking and towards more diverse options like book clubs.
Universities encourage virtual interactions by providing online tests and cooking classes to improve students' social interactions.
Continued Attention to Mental Health
The BPF highlights the importance of mental health in the student housing sector.
In Summary,
The integration of sustainability and wellness inside student housing has become a crucial priority in an educational landscape that is continually changing. The student experience is changing as universities and housing providers adapt to the particular difficulties brought on by the pandemic.
The use of sustainable building methods, unique techniques, and improved amenity areas demonstrates a dedication to protecting the environment and promoting the welfare of students. These factors must now be taken into account in order to create a nurturing environment that is supportive of learning and development.
The industry's commitment to creating sustainable and wellness-focused student housing is an investment in a better, healthier, and more successful future for students in the UK as the route from home to university assumes new dimensions.