Navigating UK Real Estate Opportunities Amid Global Uncertainty
The COVID-19 pandemic's lingering effects will have a significant impact on the uncertain nature of the global economic landscape in 2023. As the real estate industry faces unprecedented challenges, investors must navigate through valuation uncertainties, tenant engagements, and sector-specific trends to make informed decisions. Amidst the volatility, real estate investment remains significant, especially in the UK market, where staying informed and agile is crucial for continuity and maximising returns.
The Real Estate Sector's Contribution to the UK Economy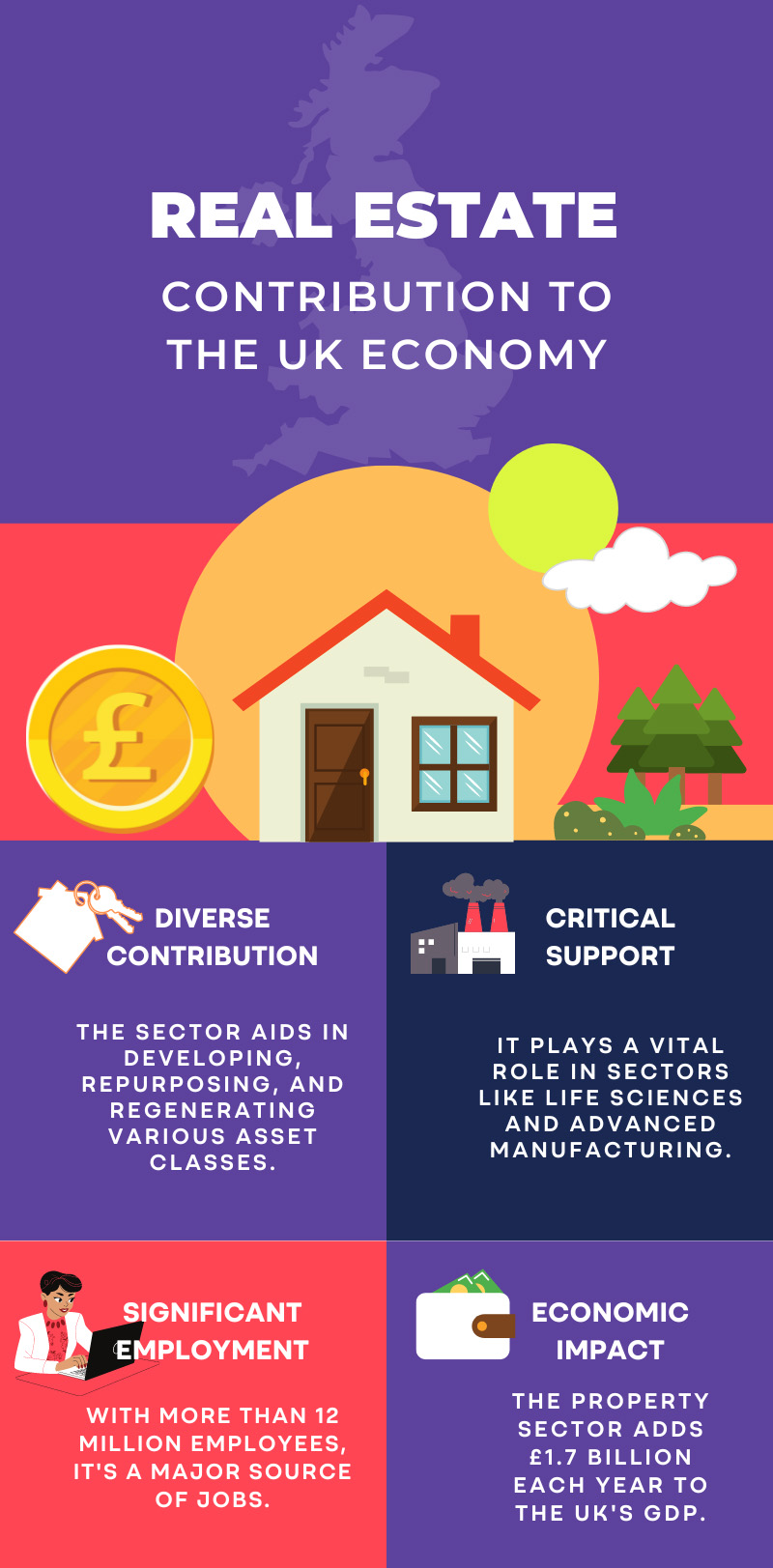 The real estate sector plays a vital role in the UK's economy, contributing gross value added that surpasses that of any other sector.In 2022, the industry contributed 65 billion British pounds in revenue and employed 545,000 people. This data highlights the significance of the real estate sector in the UK and its potential for growth and investment opportunities.
Impact of the Pandemic on Office Space
The outbreak of COVID-19 triggered a dramatic fiscal and monetary intervention worldwide as risk appetite declined. Equity markets experienced a sharp drop, while real estate initially served as a safe harbour because of its long-term horizons and favourable supply-demand dynamics. However, the severity of the virus led to valuation uncertainty, prompting the adoption of 'market uncertainty' clauses in property valuations and the suspension of trading in open-ended real estate funds.
Challenges and Risks in the Current Economic Climate
Valuation Uncertainty
Independent property valuers faced an unparalleled situation, making it challenging to determine fair property valuations. The reliance on prior market evidence for comparison purposes became limited, impacting fund pricing and trading.
Tenant Engagement
COVID-19's impact on cash flow led many businesses to request rent deferrals. Responsible investors in real estate engaged with tenants to ensure measured outcomes for all parties, supporting the government's announcement to avoid lease termination due to non-payment.
Acceleration of Trends
The pandemic accelerated pre-existing trends in the real estate market. High-street retail and shopping centres faced significant challenges, while logistics continued to benefit from changes in shopping behaviour.
Alternative Sector
Sectors like cinemas, restaurants, hotels, and student housing experienced adverse effects because of restrictions on social interaction. Operators with high levels of corporate debt require collaboration with lenders, offering opportunities for stronger players to thrive.
Operational Assets
Operational assets like student housing faced immediate challenges as management agreements lacked the same protection as leases.
Serviced Offices
The serviced office sector, once thriving, may experience changes in demand dynamics.
Size of the UK Commercial Property Market
Commercial real estate in the United Kingdom is expected to reach over $1.7 trillion by 2022, making it Europe's second-largest market. It encompasses various property types, including industrial, office, retail, leisure, medical, hotel, and residential subsectors. The investment value in commercial real estate reached close to 65 billion GBP in 2022, making it an attractive destination for cross-border investments. However, the UK public real estate market faced challenges in 2022, experiencing a significant decline in market capitalization due to an economic slowdown, rising interest rates, inflation, and geopolitical tensions. This data highlights the size and potential of the UK commercial property market but also points to the need to navigate uncertainties.
Residential Property Market Development
The residential property market has witnessed a surge in demand since the outbreak of the coronavirus, leading to a sharp increase in property prices. The limited availability of affordable housing intensified the competition among homebuyers. The average price of a house in the United Kingdom in 2022 was between £200,000 and £550,000. This information emphasises the current challenges and opportunities in the residential market, especially considering the rising mortgage rates driven by high inflation.
Homeownership Rates in the UK
In the UK, most households finance their homes using mortgages. The UK ranks closely alongside other European countries like the Netherlands, Sweden, and Denmark, with a homeownership rate of 65 percent. This data indicates the importance of the residential property market and the potential demand for housing.
Navigating Uncertainty
Amidst the complexities, real estate investors can adopt strategies to mitigate risks and capitalise on opportunities.
Focus on Sustainable Income
An investment approach centered on sustainable income can provide stability amidst capital volatility.
Asset and Tenant Diversification
Diversifying assets and tenants can limit volatility and enhance liquidity options.
Analysing Opportunities
Thoroughly evaluating each investment opportunity based on sector-specific merits is essential.
Proactive Asset Management
Proactively managing assets to drive rental growth can strengthen income advantages in uncertain times.
Long-Term Consistency
An investment approach tested in challenging economic conditions offers confidence in weathering uncertainties.
In Summary,
As the global real estate industry faces economic uncertainties amidst the COVID-19 pandemic, investors must navigate through challenges and adapt their strategies. Valuation uncertainties, tenant engagements, and sector-specific trends pose unique risks that require careful consideration. However, by incorporating relevant data and staying focused and informed, investors can weather the storm and maximise returns in these uncertain times. Real estate investment remains a significant avenue, and with prudent decision-making, it holds the potential for growth and long-term success.