Why You Should Consider Buy-To-Let As An Asset Class
Why is real estate an attractive asset class?
Nothing is more beloved by Brits than real estate. The thrill of transforming a new property into a truly worthwhile investment speaks to the ingenuity and do-it-yourself attitude that built this green and pleasant land. With one of the most stable markets in the world, you'd be mad not to get excited about such amazing investment opportunities! Buying to let is one of the most popular options available to long-term investors. With a long track record of rising yields and the potential for further increases, it's no wonder people love it so much. For maximum returns and earnings across the board, diversify your portfolio by investing in BTL and treating it as a specialised asset class.
What is an asset class?
The asset types are significant to investors. These groups of investments share liquidity, risk tolerance, and return. These traits determine asset class risks and returns. Complex investment tools like derivatives and foreign currencies are riskier but offer larger returns than cash and bonds. Understanding asset types is crucial for investment success.
Financial advisors will focus on asset classes to diversify an investor's portfolio and provide several income streams with different yields and risks.
In high-stakes investing, nothing is guaranteed. Unexpected developments can surprise even the most informed investor. Therefore, diversity is essential to any financial strategy. Spreading your money across asset classes reduces risk and boosts returns. Diversification doesn't guarantee you won't lose money, but it protects you from volatility and unforeseen trends. Never put all your eggs in one basket—diversify to reduce risk and optimise profit!
Why Buy to Let?
One of the biggest real estate companies in the world, JLL, has conducted a survey that indicates the trend of increasing renters is here to stay. According to their findings, the Buy-to-Let market has the potential to become the "largest of living sectors" in the UK, with a staggering value of over £1.4 trillion in August 2021.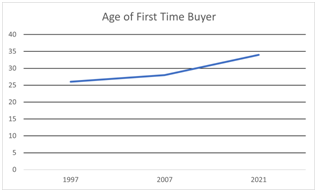 One of the biggest issues affecting the housing market is shifting renter demographics. In 1997, the typical first-time homebuyer was 26. However, Finder analyses show 34. This implies that there are more renters than ever before.
This is partly due to low interest rates, growing property values, and shifting demographics and trends. Increasing urbanisation has caused many to leave the countryside for city life. Demand for rentable homes exceeds supply, creating excellent revenue potential!
Industry estimates predict 345,000 new homes must be built per year to account for newly formed households and the backlog, and houses cost 30% more than before the 2008 housing crisis. Buy-to-Let is a great time to invest.
The ideal moment to invest in BTL was ten years ago; now is second-best. These market conditions allow you to earn a regular income and build equity.
International property investors have always favoured the UK housing market because there will always be a need for homes. Its transparent, regulated structure and well-established laws provide investor protection like no other market in the world, making it a reliable location to invest!
What does this mean for diversifying investors?
Most investing experts today seek diversification in real estate and other asset types, even if equities are the most cited. The illiquidity of an asset class does not affect its return potential; it may take time to sell it.
In BTL real estate, investors must spend months remodelling and preparing a house before renting it. Despite a slight loss in the short-term void period due to having to spend money on repairs and furniture to get the home up to a decent standard, investors should focus on the long-term gains. Real estate is considered more stable and diversified than other investments. It can balance an investor's portfolio and stabilise market volatility. Most significantly, as an asset class, it can hold value for decades.
The ideal of any investment is an increased ROI every year. In today's UK rental market, this steady yield growth is more achievable than ever. According to Zoopla's latest UK Rental Market Report, rental growth is close to a ten-year high in most regions of the UK due to the rising demand for rental properties overtaking the supply. This is due to the recent end of all COVID-19 restrictions, seeing "the resumption of more 'normal' life; offices, restaurants and bars, cinemas and theatres, and other amenities re-opening, as well as students looking for accommodation. This wave of people and businesses looking for properties to live and work in has caused a surge in increased returns for property investors. This favourable position for any potential real estate investor is projected to last for many years to come, with secure and robust returns expected throughout!
There has never been a better time to invest in the UK rental market than it is today, making it crucial that anyone looking to diversify their portfolio think about getting involved before the best properties are snapped up.
What are the risks?
Of course, with any investment, there is a certain level of risk. Even the stock market, which has the best historical returns of any asset class, is susceptible to crashes and fluctuations. Therefore, it's important to know the risks and how to mitigate them. Some of the key risks that come with Buy-to-Let real estate are:
Void Periods: These are periods between renters where your property may lie empty, meaning you'd be paying the mortgage and bills with no return from renters. The best way to prevent these is by providing good-quality housing that renters can treat as a home. Statistica states that private renters are staying in their homes for up to 4.8 years, so investors who provide quality housing can minimise the risk of void periods. The UK is a market where supply is controlled at a council level, affording added comfort to investors.
Off-Plan Considerations: Many investors in the Buy-to-Let sector purchase properties off-plan. This is before or during the construction process. While this can lead to significant discounts and benefits from an uplift in housing values throughout construction, it carries the risk of having no guarantee about the quality of the property or its value once construction is finished. Make sure to buy properties like these from a reputable developer with a proven track record.
Undesirable Tenants: While you can do everything right by buying an excellent property with a high value in an excellent area, if you get a bad tenant, it can have a disastrous effect on your returns. By using an established real estate company that can assure you that potential tenants will be properly vetted, you can minimise this risk.
Despite some concerns about the potential risks of investing in UK Buy-to-Let properties, this is still an excellent investment opportunity. By addressing these risks early in the buying process, you can ensure that you get the most out of your investment in the long term.
In Summary,
Whether you're new to investing or a seasoned pro, UK Buy-to-Let real estate is an excellent investment opportunity. Compared to other sources of passive income, such as stocks or bonds, it has a long and proven track record of steady returns over time, ensuring consistent gains for years to come. By investing in Buy-to-Let real estate alongside higher-risk assets such as stocks or high-yield bonds, you can improve your overall risk-return ratio and maximise the returns on your investments. This is the whole point of diversification, so if you're looking to grow your wealth and secure your financial future, consider investing in Buy-to-Let real estate today. You won't be disappointed!