UK Construction: Navigating the Dynamics of the Boom
The construction sector in the United Kingdom is a thriving and dynamic environment that reflects the strength of the country's economy. Today, we set out on a quest to understand the present situation of construction in the UK. Our attention is firmly focused on current events, developing trends, and the critical variables dictating the direction of this dynamic sector.
Recognizing the UK Construction Industry
The construction market was valued at an astounding $470.4 billion in 2022. This accomplishment is particularly amazing because of the challenging and uncertain environment in which it took place. The UK fabrication industry has danced through a complicated tapestry of difficulties, from the ups and downs of the economy to seismic worldwide events like the COVID-19 pandemic and inflationary pressures.
However, the UK fabrication market has shown amazing endurance in the face of hardship. As they skillfully navigated choppy waters, its participants demonstrated an unwavering spirit of flexibility and inventiveness, highlighting the sector's inherent strength. 
Quantifying the UK Construction Market
The UK fabrication market is estimated at USD 386.36 billion in 2023, with projections indicating further growth to USD 452.15 billion by 2028, boasting a Compound Annual Growth Rate (CAGR) of 3.19% during the forecast period (2023-2028).
Factors Influencing the UK Construction Market
The UK fabrication industry is currently facing several key challenges:
Access to materials and fuel: The war between Russia and Ukraine has restricted access to materials and fuel, putting further strain on a sector still grappling with the ongoing effects of the COVID-19 pandemic.
Skills shortage: This has hampered the productivity of the industry for years now and still needs a solution. This crisis has also been exacerbated by the pandemic, with tens of thousands of baby boomers seeking early retirement in both North America and the UK.
Mental health crisis: The mental health crisis in the sector remains a silent killer. While some steps have been taken to alleviate this, they have often been gradual and fragmented.
Climate crisis and sustainable building: Every industry on the planet has to make more sustainable choices, reduce its carbon emissions, and replace non-renewable fuel sources with renewable options.
Post-COVID skills shortage: The fabrication industry was reportedly experiencing a skills shortage before COVID and the pandemic has made things much worse.
Rising Costs: Rising inflation, higher interest rates, rising fabrication material prices, labour shortages, and supply chain disruptions.
Residential Sector Challenge: The industry faced headwinds due to a downturn in the residential sector, influenced by rising interest rates and high real estate costs.
Pandemic Impact: Like many sectors, the real estate industry felt the initial impact of the COVID-19 pandemic in 2020 but exhibited a strong recovery throughout 2021.
Challenges Persist: As of early 2023, the growth rate appeared to be slowing due to inflationary pressures, rising energy costs, and economic uncertainty.
Can Technology Resolve Some Of The Challenges?
Technology can play a significant role in addressing the challenges faced by the UK real estate industry. Here are some ways:
Improving productivity and profitability: The introduction of modern technology to real estate could improve productivity by 14-15% and generate savings of 4-5%. This can be achieved through various software solutions, including ERP (Enterprise Resource Planning) software, project management software, and real estate estimating software.
Enhancing collaboration and customer experience: Digital technology can improve collaboration between teams and stakeholders, enable smooth scaling, and enhance customer experience.
Addressing the skills shortage: Robotics and automation may help solve the skills gap in the construction industry. For instance, real estate robots can bring predictability to an industry rife with uncertainty.
Promoting sustainability: The adoption of new technologies like 3D printing can help reduce real estate times and costs. Additionally, new materials such as plastic lumber are more sustainable and environmentally friendly than traditional real estate materials.
Overcoming resistance to change: Defining what's in and out of scope on a project is a great way to overcome the cultural change barriers that exist within real estate.
Despite these advantages, the construction sector has been slow to adopt digital technology. However, with the right approach and mindset, technology can indeed be a game-changer for the construction industry.
The Silver Lining: Infrastructure and Commercial Sectors
Despite these challenges, the UK's construction sector found areas of growth. Notably, civil engineering and commercial sectors experienced surges in new orders, driven by corporate demand and infrastructure projects.
Navigating the COVID-19 Pandemic
The pandemic sent shockwaves through the construction industry in 2020, resulting in a steep decline. Nevertheless, the sector demonstrated remarkable resilience, achieving consistent growth in construction output every month since March 2021.
Sectoral Shifts and Recovery
Key segments of the construction industry witnessed significant shifts. Private housing emerged as a dominant force, while housing and non-housing repair and maintenance contributed substantially to construction output. Infrastructure construction exhibited the highest market share growth in the sector.
Emerging Trends in the UK Construction Industry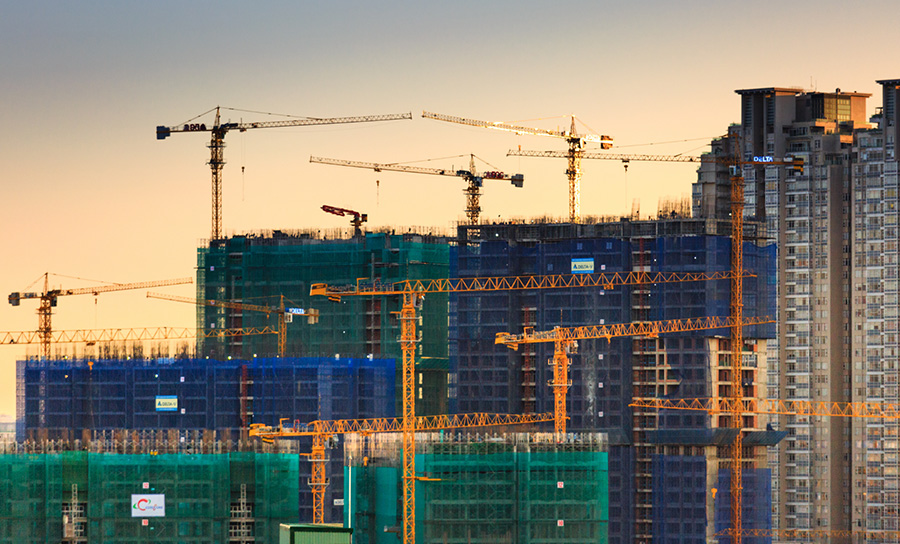 The UK real estate industry is evolving with several noteworthy trends:
Sustainable real estate Solutions: Eco-friendly materials and energy-efficient designs are gaining prominence to meet environmental regulations.
Technological Advancements: Building Information Modeling (BIM), automation, and drones enhance project efficiency, accuracy, and safety.
Modular and Prefabricated Construction: These methods reduce waste and disruption while speeding up project delivery.
Infrastructure Investment: Government projects such as High-Speed 2 (HS2) and Heathrow Expansion drive real estate growth.
Digital Transformation: Digital tools improve project management, collaboration, and data analysis, enhancing decision-making.
Resilience Planning: Designs now incorporate flexibility to cope with unforeseen disruptions, highlighting the importance of resilience.
Workforce Development: Training and upskilling programs address the skilled labor shortage.
Health and Safety: Enhanced safety protocols prioritize worker well-being and minimize accidents.
Affordable Housing Initiatives: Initiatives aim to address the affordable housing shortage, driving growth in this sector.
Post-Pandemic Realignment: Remote work impacts the design and real estate of commercial and residential properties.
Also, in the second quarter of 2022, the UK real estate sector's gross value added (GVA) was more than four billion British pounds greater than in 2021, according to the Office for National Statistics.
The COVID-19 pandemic lowered this industry's GVA to GBP 20 billion (USD 25.6 billion) in the second quarter of 2020, its lowest level in ten years. Private houses made the greatest money in the British building business.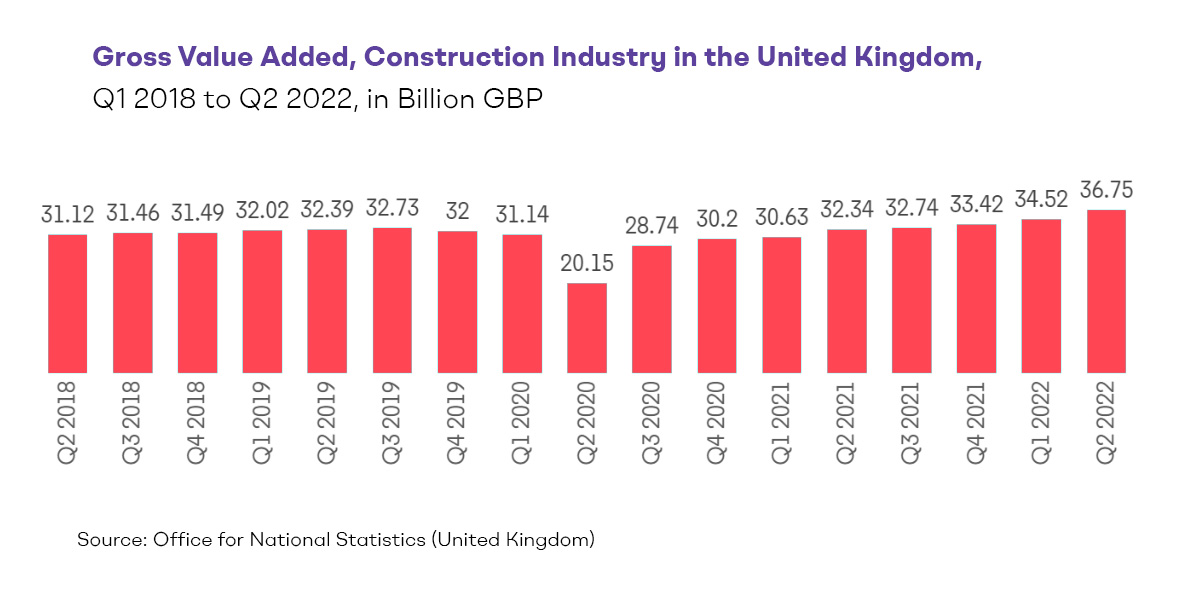 Looking Ahead: Growth Potential
Projections indicate an Average Annual Growth Rate (AAGR) of over 2% from 2024 to 2027, underscoring the real estate sector's potential for sustained growth. This growth not only reflects the industry's resilience but also its ability to seize opportunities, adapt to changing circumstances, and innovate in response to evolving market dynamics.
In Summary,
The UK real estate industry has proven itself to be not just dynamic but remarkably resilient in the face of adversity. It has weathered economic fluctuations, global crises, and uncertainties, emerging stronger and more adaptable. With a promising outlook characterised by sustained growth projections and a commitment to innovation and sustainability, this sector remains a cornerstone of the country's economic landscape. As it navigates the ever-changing dynamics of the industry, embracing technological advancements, sustainability initiatives, and workforce development, the UK real estate industry continues to build the future, one brick at a time.