Top 3 Regions to Buy-to-Let in the UK and Why
In the UK, buy-to-let homes have long been a popular investment choice for persons wishing to expand their property portfolio while earning passive income.  Choosing the right regions to invest in, on the other hand, is critical to success in the buy-to-let market. The goal of this article is to present an in-depth examination of the three most popular places for buy-to-let investments in the UK to help investors make informed selections. 
Investors must carefully select a suitable region for their buy-to-let investments. It has a direct impact on their assets' profitability and performance. The right location can boost rental pay and the potential capital gain of the asset by delivering superior rental yields and strong tenant demand. By carefully weighing these factors, investors may build a profitable buy-to-let portfolio, optimize their rental income, and make a winning decision.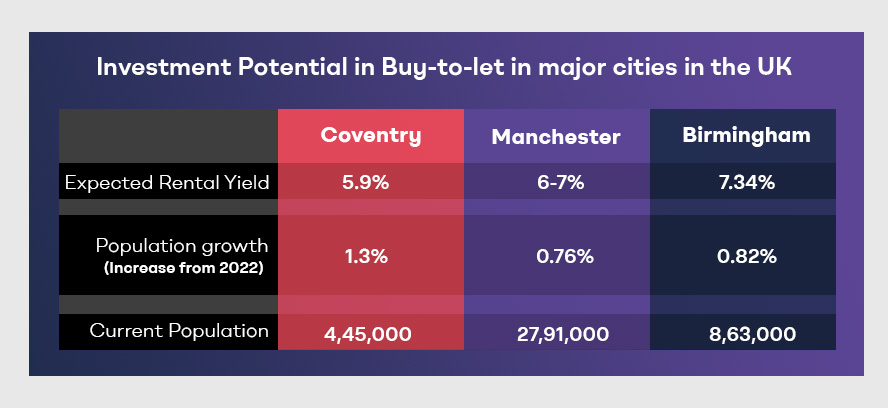 1. Coventry: Emerging Rental Property Hotspot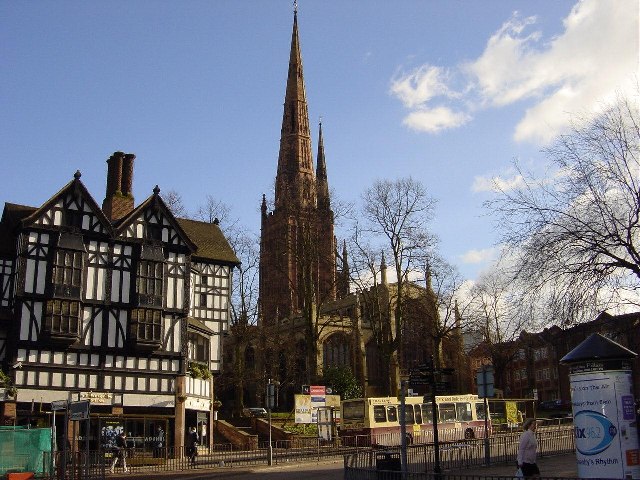 There are potential investment opportunities in the Coventry buy-to-let market. Figures from 
home.co.uk
 indicate that landlords in Coventry can reap attractive monthly rents of more than £1,000 on average from a buy-to-let property in the city. The average rent in Coventry, according to them, is currently £1,302 per month. The city has a developing populace, a flourishing rental market, and a solid interest in investment properties. It benefits from being in the Midlands' central area, being close to important transportation routes, and being near renowned educational institutions like Coventry University. 
Promising Rental Yields and Development Possibilities: 
Buy-to-let investors can expect high rental yields in Coventry. The city has seen consistent development in rental costs as of late, giving the opportunity to profit well from   such enterprises. Coventry is also undergoing significant development and redevelopment projects, which contribute to the property market's overall growth prospects. 
For example, Corporate let, 3 bed terraced house is fully subscribed in Coventry at a price of £194,279, with a 17.79% return on equity. This rate of return is enough to satisfy and attract any investor to invest in Coventry. 
The property prices in Coventry are lower than the average rental properties in the UK. This attracts investors to buy at the lower prices and enjoy returns in the long run. This is because the regeneration and development projects in Coventry are making 
property prices
 rise at a fast pace. 
Tenant Demand in Coventry Is Being Driven By: 
Opportunities for Employment:  
Jaguar Land Rover is one of the city's largest employers and has a significant presence in Coventry. The automobile sector and other enterprises provide a wide range of job opportunities, attracting competent employees who want to relocate to cities closer to their workplaces. 
For example, Coventry is having successful business opportunities in sectors like Advanced manufacturing and engineering, aerospace, Automotive, Energy and Low Carbon Technologies, etc. 
Education:  
Coventry University and Warwick University are well-known for their academic offerings and have a large international student body. The university's students frequently look for rental convenience during their examinations, spurring a reliable interest in investment properties in the city. 
Attractions and the Cultural Scene: 
Coventry has many cultural attractions, including the Herbert Art Gallery, the Belgrade Theatre, and the Coventry Cathedral. The demand for rental properties rises because of the city's attractiveness and the events and festivals that take place throughout the year, as well as these cultural offerings. 
Infrastructure and Connectivity:  
Coventry's central Midland's position makes it simple to access major highways as well as direct train services to London and other cities. This network makes Coventry an enticing place to reside, particularly for people who commute for business or recreation, fueling demand in investment properties. 
On August 5, the West Midlands Growth Company organised a 
Future Mobility Showcase Day
, when Coventry City Council showcased its continuing Coventry Very Light Rail Project. IN connection with the Commonwealth Games, E.ON UK hosted the Future Mobility Showcase Day to examine effective and sustainable transport options in the future.  
2. Manchester: Lucrative Investment Opportunities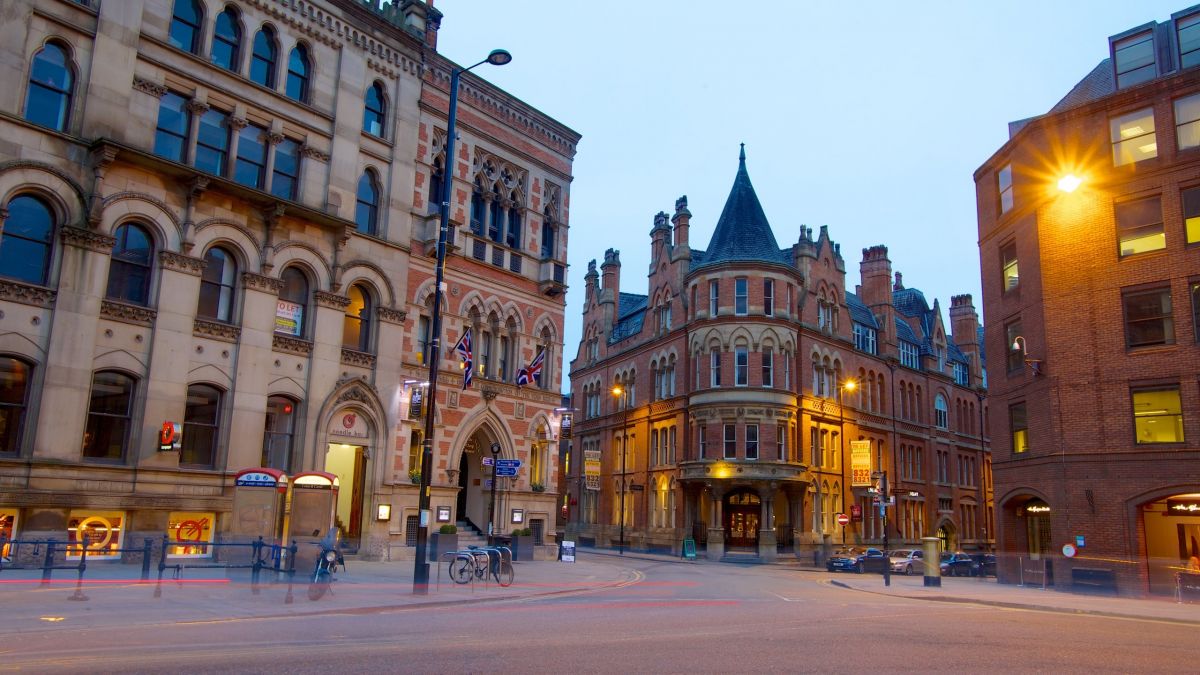 Manchester is a vibrant and thriving metropolis in the northwest of England. It is an enticing place for real estate investors due to tremendous expansion and transition in recent years. The rental market in the city is vibrant, with a diverse range of properties available for lease, including apartments, townhouses, and family homes. According to Rightmove, Manchester houses sold for an average of £284,922 last year with a 
rental yield
 of over 8%. 
Manchester's rental market is thriving due to the city's expanding population and high rental demand. Jobs, educational facilities, and a strong cultural scene have all contributed to the city's continuous population growth. A thriving rental market has emerged as a result of the high demand for rental houses caused by the country's continued population growth. 
High Rental Yields and Strong Capital Growth Potential: 
Manchester is a desirable location for buy-to-let investments due to its attractive rental yields. Rental yield is a proportion of the profit from speculation that investors can anticipate from rental payments. For investors looking to generate rental income, Manchester's rental yields are typically higher than the national average. 
In addition to high rental yields, Manchester also presents strong potential for capital development. Capital growth is the property's cumulative increase in value. Property values have increased because of the significant investment in the city's infrastructure and development projects. The ongoing regeneration efforts and future development plans indicate a positive outlook for capital growth in Manchester. 
Factors Attracting Tenants to Manchester (Employment Opportunities, Universities, Cultural Scene): 
Manchester's strong rental market is fueled by a variety of factors that draw tenants in. 
Employment Opportunities:  
Manchester is well known for its vibrant commercial and employment sectors. Many businesses, including healthcare, banking, the creative arts, and technology, converge here. The presence of major enterprises, as well as an increasing number of startups, draws professionals who prefer to live in the city. The city is seeing an influx of young working couples and single young adults, the majority of whom are recent immigrants. 
Manchester is home to several big employers like TCS, Adidas, Marks & Spencer, Network Rail, etc. Check out more employers in Manchester 
here
.  
Universities:  
Manchester is home to several reputed Universities, including the University of Manchester and Manchester Metropolitan, Manchester School of Architecture, etc. These institutions attract a large student population, creating a strong demand for student accommodation and rental properties. The rental market is stable and profitable because of the constant influx of students. 
The Culture:  
Manchester has a thriving arts and music scene in addition to a rich cultural heritage. Throughout the year, the city hosts numerous exhibitions, music festivals, and cultural events. Manchester is an appealing city for people who want to live a life that is more enriched by culture because it has world-class theatres, museums, galleries, and music venues. 
The confluence of these qualities, which make Manchester a desirable location for tenants, enables Manchester's overall strength in the rental market. 
Birmingham: Thriving Buy-to-Let Market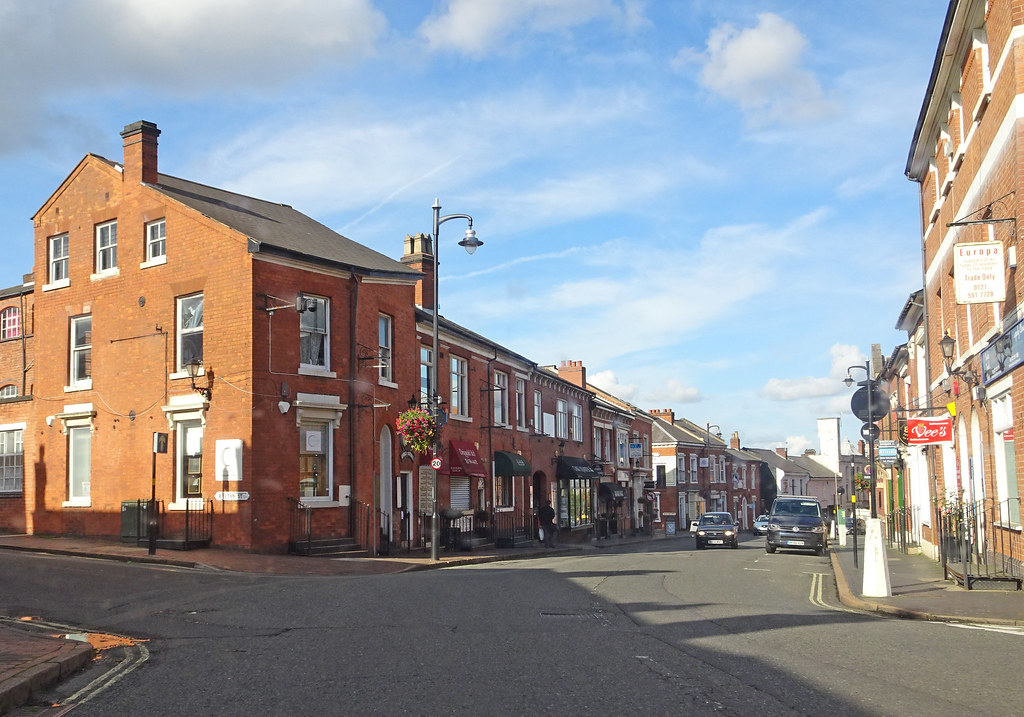 Birmingham, the UK's second-largest city, has a thriving buy-to-let market that offers tempting options to property investors. The city has witnessed tremendous transformation in recent years, attracting both domestic and foreign investment. It is critical to assess Birmingham's buy-to-let market in order to determine its genuine capacity and uncover investment opportunities. According to Rightmove, Birmingham houses sold for an average of £256,167 in the last year with a rental yield 6.65%. This is higher than London by 2.90% 
Promising Rental Yields and Growth Prospects: 
Birmingham presents promising rental yields, making it a tempting area for buy-to-let speculations.  When compared to other major UK cities, the city's rental yields are competitive, offering the possibility of steady rental income. Birmingham's rental market benefits from the popularity of investment properties, driven by different factors, for example, a growing population and a strong job market. 
Besides, Birmingham flaunts positive development possibilities. The redevelopment of Birmingham Smithfield and the HS2 high-speed rail project are two examples of significant investments made in the city's infrastructure and development projects. These initiatives offer opportunities for long-term capital growth and contribute to the appreciation of property values. Birmingham's development potential enhances the appeal of its buy-to-let market for investors. 
Redevelopment projects and business opportunities are driving tenant demand in Birmingham: 
Several factors benefit Birmingham's buy-to-let market, which drives tenant demand: 
Regeneration Projects:  
The city has seen broad regeneration projects, changing regions like Digbeth, Eastside, and the city centre area. These initiatives include the development of new residential complexes, improved infrastructure, and the creation of vibrant cultural and leisure spaces. Birmingham's overall appeal is enhanced by regeneration projects, which attract tenants looking for contemporary and well-connected living spaces. 
Business Opportunities:  
The economy is strong in Birmingham, which is also a major hub for the technology, professional services, and finance sectors. Numerous multinational corporations and a thriving startup scene can be found in the city. Birmingham's robust job market and 
business opportunities
 attract professionals who prefer renting close to their workplaces. This creates a consistent demand for rental properties in the city. 
Conclusion
It is critical to select the right areas for your 
buytolet investments
 in the UK if you want to maximize your earnings. The three main regions discussed in this article—Coventry, Manchester, and Birmingham—offer enticing rental returns, development opportunities, and tenant demand factors. Investors can prosper in the buy-to-let market by understanding market dynamics and taking into account factors such as employment possibilities, universities, and regeneration initiatives. To build a lucrative buy-to-let portfolio in these areas, substantial study and strategic planning are required. 
Before making investment selections, investors should evaluate local market conditions and speak with professionals experienced in the relevant locations. 
Coventry, Manchester, and Birmingham present enticing investment opportunities due to their individual attributes, areas of strength for tenant demand drivers, and possibilities for rental income and property price appreciation. Because of their long-term growth potential and profitability, these areas should be examined by investors seeking buy-to-let assets in the UK.