Buy-to-Let Outlook for 2023
2022 was a particularly successful year for the buy-to-let sector and the investors who were involved. Throughout the year, the number of buy-to-let homes and mortgages increased significantly. According to USwitch, the private renting sector (PRS) is now the second largest housing tenure in the UK, accounting for around 4.5 million UK households. Additionally, USwitch released a list of BTL statistics for 2022: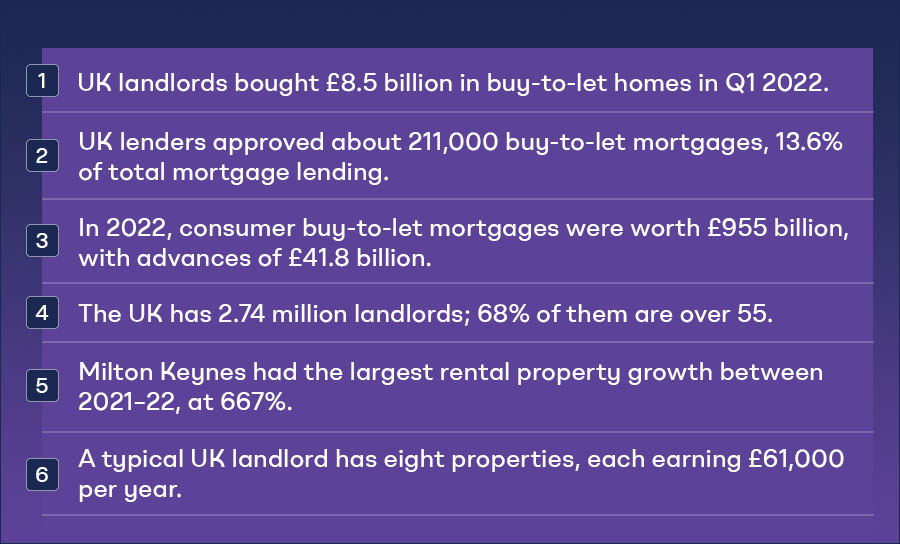 With many investors actively searching for opportunities this year, we can expect this trend to continue in 2023. The rise of rental income allows other strategies to be maximised to their full potential. Realestate investment is the most secure investment option in the United Kingdom. Property assets will always exist and grow in value over time, as opposed to stocks or cryptocurrencies, which are extremely volatile and can fluctuate overnight. Realestate investments are based on fundamentals, as opposed to cryptocurrency pump and dump tactics, making properties the smartest investment. This article will concentrate on buytolet, our ground-breaking investment strategy that combines the advantages of fractional investing and rental income.
Overview
Buy-to-Let enables investors to buy realestate fractions for use in rental portfolios. Investors can expect pre-tax cash yields of 12-18% per year on money invested, as well as capital gains that compound over time. As realestate prices and local economies rise, so will investment in rental portfolios. According to Hamptons, the average rent in the UK increased by 7.9% year on year in November. Rental properties has several advantages over regular BTL investing for investors:
Purchasing ownership fractions of Novyy properties allows for a seamless ownership which negates the responsibilities of management and maintenance.
All Novyy properties are mortgage approve and funded by senior lenders and banks, the authenticity and integrity of these assets are of the highest quality and have been acquired after thorough due diligence.
Income from investments is always being generated as the properties that we engage on are already rented or have reached a rental agreement.
Rather than going through physical paperwork and many face-to-face meetings, purchasing realestate fractions in a digital experience with Novyy. After a KYC-AML verification is completed, investors can browse opportunities and wire transfer a purchase.
Rental properties offers numerous beneficial benefits to prospective investors. Traditional renting has never been able to accomplish such ease of use and control. After making an investment, the investor will not have to worry about property management, due diligence, or mortgage funding because we will handle everything. This customer-first approach is poised to propel Rental properties to the forefront of realestate investing in the coming year.
Procedure Comparison
Rental properties seeks to overcome all of the drawbacks of traditional BTL, such as the lengthy process of obtaining a position on the realestate ladder with BTL. In this regard, Buy-to-Let tries to meet customers' best interests.
Realestate hunting can be a time-consuming and strenuous activity, and finding the right properties at the appropriate price can be a difficult component of investing. Novyy already has deals in place for investors to capitalise on, and there is also the possibility of researching an external property presented out by a customer, but it must match the standards we have established. In terms of mortgages, BTL mortgages are frequently inaccessible unless a deposit is made, as well as confirmation that your present income stream can cover the interest payment. With Novyy, we fund the mortgage through our institutional funding, which eliminates all of the difficulties associated with obtaining a mortgage.
The most effective BTL properties are typically kept in limited companies, which necessitates the involvement of an accountant to ensure compliance between the investor and tax legislation. We handle everything with Novyy, which saves the investor a tonne of time. Another time-consuming aspect of BTL acquisitions is legal fees. The investor would need a solicitor to handle due diligence and stamp duty. Novyy pays for all professional charges owed to third parties. The most significant distinction between traditional BTL and our properties offered to rent is the reduction in ongoing costs. Traditional BTL requires you to solely manage the property, including agents, accountants, income tax, landlord insurance, and maintenance.
We at Novyy are in charge of paying the ongoing expenses for our properties.
The ease of purchasing that Novyy provides has never been available to real estate investors. Looking ahead to 2023, this approach will give investors the most flexibility when it comes to investing in real estate.
Market Comparison
By offering a fraction of the cost of acquiring a property, Novyy aims to make property more accessible to investors of all ages and backgrounds. With us, you can invest as little as £10,000 in property fractions. With BTL investments, a deposit of 5-15% is required, as well as all administration and maintenance expenditures upon acquisition of the property. With Novyy, all that is required of an investor is the capital they put in.
Yields are an excellent example of where Buy-to-Let outperforms traditional rental properties. Coventry, for example, has an average rental yield of 4-6%, with the CV1 postcode area producing 6.9%. With cash on top, Novyy's effective return on investment might range from 12 to 18%. Not only does this double or triple a high-ranking rental yield in BTL, but you as an investor will also benefit from capital gains as property values rise.
Buy-to-Let is the future of property investing, providing investors with ease of choice and substantial profits that will permanently revolutionise the BTL market. 2023 is building up to be another spectacular year for real estate, and our Buy-to-Let strategy is poised to assist investors in reaping the benefits of property growth.
About Us
The Novyy investment platform was created to streamline the process for individuals and family offices worldwide to participate in the UK's buy-to-let market. We have a strong emphasis on co-living spaces, including single-family residences (SFRs) and houses in multiple occupations (HMOs). Our platform consolidates individual investment interests through a Special Purpose Vehicle (SPV) or feeder fund structure, allowing direct investment in the targeted assets while also leveraging lender financing for each property. Furthermore, we provide portfolio-level reporting, simplified annual tax filings, opportunities for secondary market investment, unique research, and additional services that reduce the barriers for individual investors looking to enter the private real estate market.