Real Estate: Digital Transformation Restructuring the UK Property Sector
The real estate industry in the United Kingdom is on the cusp of a digital revolution in an era of fast technological innovation. The property sector is changing as digitalization permeates every part of our lives. Let's examine how the UK property market is changing due to digital change and what the future holds for this vibrant industry.
Problems with the Current Real Estate Market
Prior to beginning the digital transformation process, it's critical to address the obstacles preventing the industry's advancement. Legacy systems that are out of date have hampered growth and increased operational inefficiencies and cybersecurity concerns. Alarmingly, many property businesses are still ill-equipped to handle these risks, endangering both data and money.
Additionally, the industry's resistance to adopting new technology has kept these outdated legacy systems in use, inhibiting innovation.
Accepting the Digital Transformation
UK property firms must place a high priority on agility and adaptation to overcome these obstacles. Working together with reputable solution providers is crucial because they have the knowledge needed to deploy property technology solutions successfully. Stakeholders' trust can be increased by displaying the value of these tools and highlighting advantages like increased operational effectiveness, simplified procedures, and improved customer experiences.
Technological Advances Are Redefining the Sector
Various unique technologies are demonstrating how property is undergoing digital transformation. For example,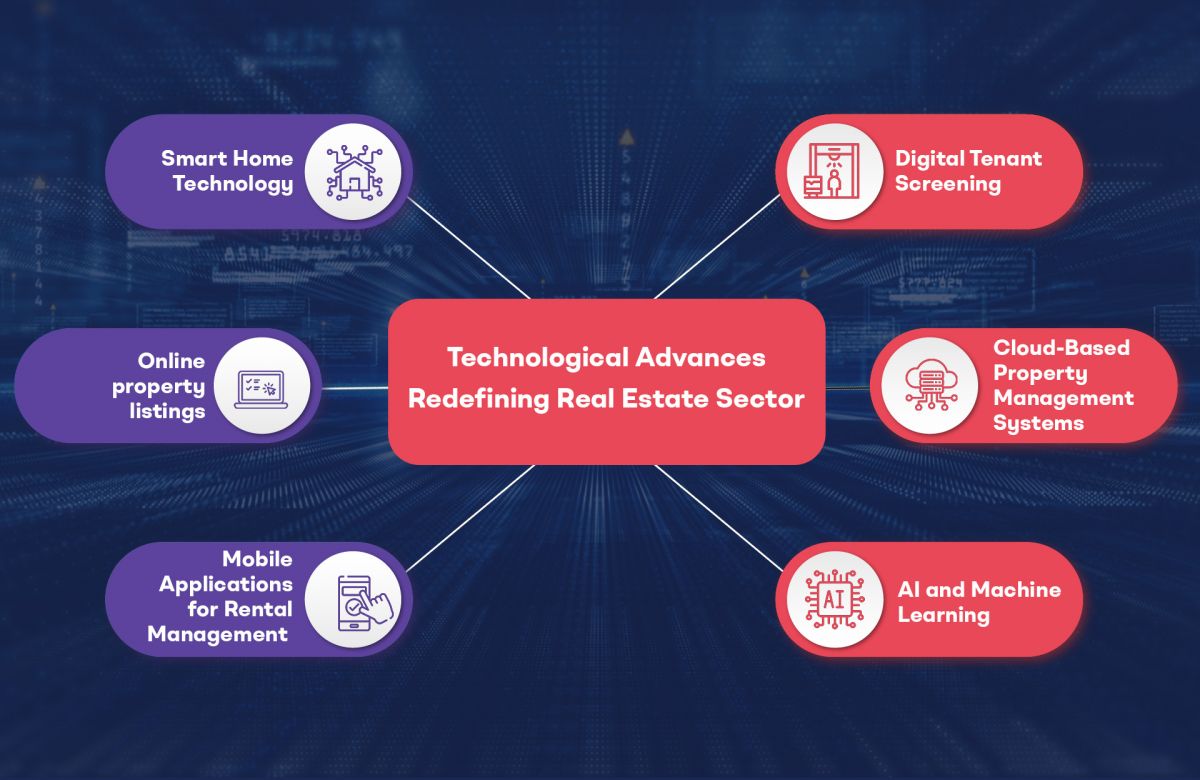 Smart Home Technology: Voice commands and smartphone apps enable renters to manage their living areas, enhancing ease and security.
Online Property Listings: Online property listings encompass detailed descriptions, high-quality photos, virtual tours, and location-based data.
Mobile Apps for Rental Management: Tenants can conveniently access online rent payments, maintenance requests, contract signing, and property manager communication.
Digital Tenant Screening: Streamlined approval processes speed up leasing agreements.
Cloud-Based Property Management Software: Cloud-based property management software streamlines operations, automates tasks, and efficiently manages security deposits for rental property owners and managers.
AI and Machine Learning: Improve tenant communication, forecast rental market trends, and boost operational efficiency.
The Vision of a Digital-First Industry
The UK property sector envisions efficiency, equity, and ethics as its guiding principles. By eliminating antiquated verification techniques and needless paperwork, digital tools encourage equity in segments like tenant screening.
Importantly, technology can eliminate biases and ensure that all applicants have equal access to rental properties, regardless of their origins or other qualities. To avoid accidental biases from impacting algorithms, it is crucial to use these tools properly.
Building a Solid Foundation for Property Technology
To embark on a successful digital transformation journey, stakeholders must:
Analyse the demands of the property and use technology to pinpoint and address operational problems.

Train teams on technological advancements and explain improvements to tenants for greater openness and better rental experiences.

Continue to collect and analyse data to remain on top of market trends and spot potential areas for improvement.
The UK property market is positioned for long-term success in a changing rental scenario thanks to a systematic approach, consistent evaluation, and a dedication to change.
The Road Ahead
An industry-redefining digital change is currently taking place in the UK's property market. Digitalization is changing how properties are advertised and managed, from virtual tours to smart homes. Although the industry may have taken a while to adapt at first, subsequent occurrences like the pandemic have sped up acceptance.
Online platforms, cutting-edge digital services, and smart houses are more common, improving convenience for both landlords and tenants. To maintain security and authenticity, it is crucial to keep an eye out in the digital world.
Looking ahead, the property sector is prepared to investigate potential future trends such as robotics, sophisticated formwork technologies, and 3D printing. These developments may further simplify procedures and improve user experiences.
Top Technological Trends in UK Real Estate for 2023
Technology continues to play a pivotal role in reshaping the UK property industry. As we step into 2023, several key technological trends are poised to redefine how properties are bought, sold, and managed. Let's explore these trends that are driving innovation and transforming the property sector in the UK.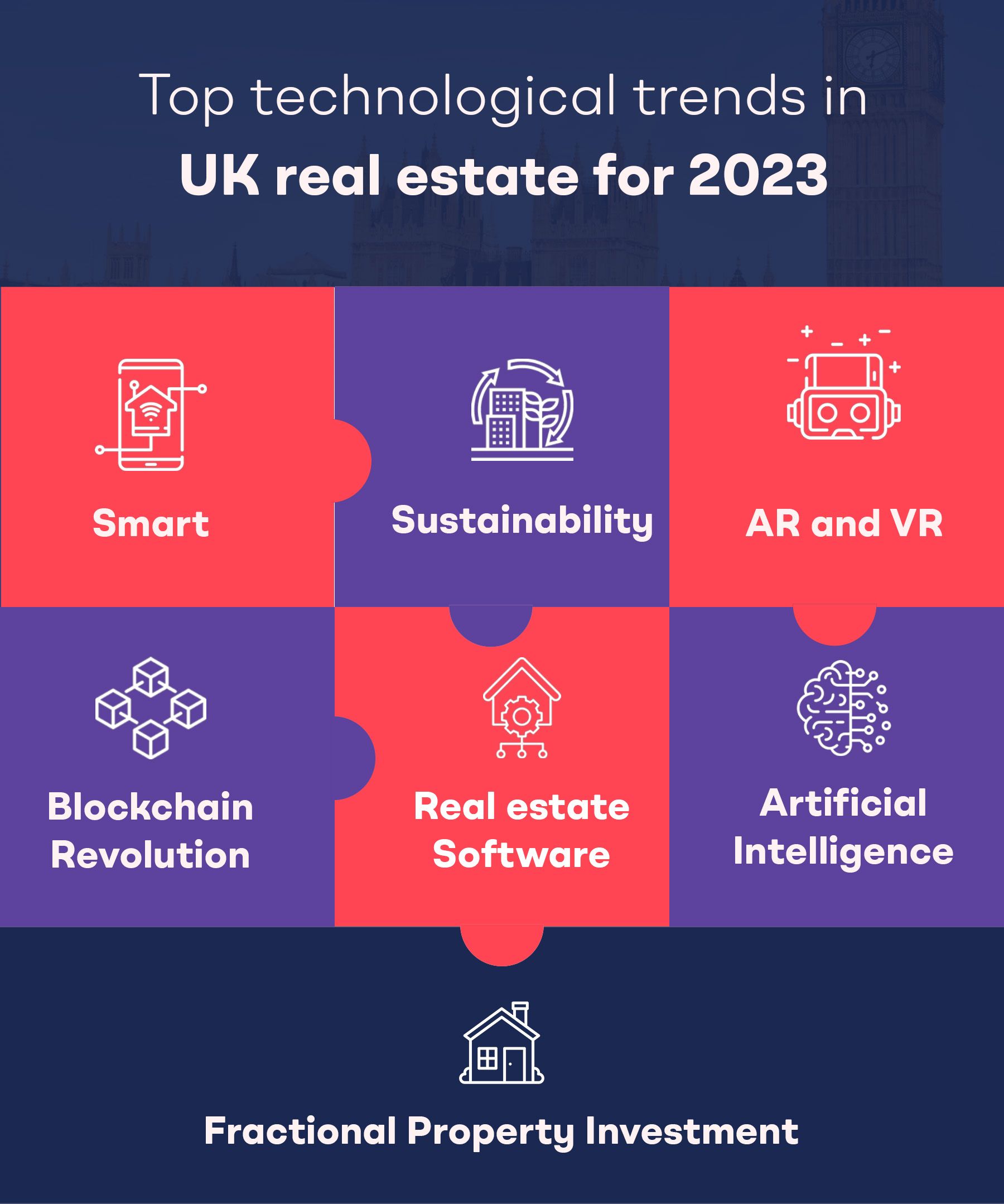 Smart property: The development of smart houses and buildings is still on the rise in the UK, improving convenience, safety, and energy effectiveness.
Technology for sustainability: As more people adopt sustainable practices, technologies like IoT and BIM that optimise resource utilisation and lessen environmental effects are becoming more popular.
AR and VR: Offering immersive experiences to potential purchasers, augmented and virtual reality are altering the procedures for viewing and selling property.
Blockchain Revolution: property transactions are becoming more transparent, efficient, and paperless thanks to the blockchain revolution and smart contracts.
Fractional Property Investment: Tech-driven fractional ownership is democratising property investment, making it accessible to a broader range of investors.
AI-Powered Insights: AI is facilitating data analysis, market forecasting, and decision-making, giving key industry participants insightful information.
Real-Estate Software: For property professionals in the UK, specialised software solutions are improving client service, data processing, and property management.
Challenges and Future Outlook
While the digital transformation of property marketing has enormous promise, it also brings a number of opportunities and difficulties that will determine its course in the future. 
Challenges Associated with Digital Transformation
Cost and Accessibility: Although technologies like VR and AR provide immersive experiences, their initial adoption can be expensive. It can be difficult to ensure accessibility for a variety of market participants.
Privacy and Data Security: As personalisation becomes data-driven, it is crucial to maintain the privacy and security of sensitive customer information. Strong cybersecurity protections are necessary.
Integration Difficulty: Integrating different digital tools and platforms into current marketing tactics can be difficult. Cohesive operations are difficult to ensure.
Skills Gap: Due to the quick development of technology, trained professionals are required. To close the skills gap, spending money on training and development is essential.
Possibility of Future Developments
Enhanced Immersive Experiences: VR and AR will advance, providing more interactive and realistic property tours and increasing accessibility and cost-efficiency of these experiences.
AI-Powered Insights: By learning more about buyer preferences, AI will be able to make more precise property recommendations and target marketing campaigns.
Social Media Innovation: As social media platforms and functionalities develop, creative ways to interact with potential customers will become available.
Sustainable Technologies: Property marketers will highlight eco-friendly features and certifications as sustainable practices spread.
Future Plans for the Sector
Greater Integration: As the distinctions between the physical and digital worlds become more hazy, technologies like VR, AI, and social media will become essential to the marketing of property.
Hyper-customization: Property marketers will offer buyers highly customised experiences as data-driven customization soars to new heights.
Sustainability as a Standard: Eco-friendly properties and sustainable practices will become the norm as environmental concerns grow.
Global Engagement: Thanks to unique marketing strategies and technologies, the UK property industry will draw in a more varied, international clientele.
Continuous Innovation: As new technology and consumer demands fuel continual transformation, the sector will continue to be in a constant state of innovation.
Movers and Shakers in Real Estate Technology: 8 Leading Innovators
Novyy Technologies: Novyy Technologies Ltd. specialises in facilitating international property investment through unique lending solutions and fractional ownership opportunities in the UK real estate market.
Encore: Encore professionally manages residential and mixed-use developments. They provide excellent customer service and prioritise property maintenance and value.
Street Group: Street Group, a proptech startup, uses technology and transparency to change the property industry. They create products to simplify and open up property processing.
ATTOM Data Solutions: ATTOM Data Solutions offers comprehensive real estate data and analytics services.
Mashroom: UK proptech business Mashroom is revolutionising property renting with an online platform that connects landlords, tenants, and property professionals. Their innovative Rent Passport™ system boosts trust and streamlines rental applications.
BiggerPockets.com: BiggerPockets a platform for real estate investors and enthusiasts, fostering knowledge sharing and networking.
CBRE: CBRE is a global leader in real estate services and investment management. CBRE Website
Century 21 Real Estate: Century 21 Real Estate  is a prominent name in residential real estate services.
In Summary,
As a result of technological advancements, the UK real estate sector is likely to experience a digital revolution. Agility, efficiency, and adaptation are surfacing despite outdated practices and industrial resistance. Property management, security, and sustainability are being improved through smart house technologies, online real estate listings, and AI-driven analytics.
The industry strives to offer fair access to rental properties using digital tools that do away with prejudice and antiquated procedures. Stakeholders in this dynamic context must identify needs, train teams, and monitor development. Future innovations like robotics and 3D printing will speed up processes and enhance user experiences. 
Despite challenges with cost, privacy, integration, and skills, immersive experiences, social media innovation, and sustainable technology are all viable. The future of the sector lies in integration, hyper personalization, sustainability, global engagement, and innovation.
The digital revolution is fundamentally altering how the real estate industry operates in the UK in terms of marketing, management, and customer experience. The industry will become more effective, equitable, and environmentally sustainable thanks to its digital-first strategy, benefiting both owners and tenants.