A Guide to Novyy's Buy-To-Let Fractional Ownership Model
Imagine living in a society where you could afford a magnificent villa with a view of unspoiled beaches or a lively flat in the middle of a thriving city. Welcome to Novyy's buy-to-let fractional ownership, the world of real estate investment where dreams are made.
Our trailblazing approach to buy-to-let fractional ownership has entirely revolutionized the terrain of property investment. These are bite sized investments in income-generating property fractions that could pave the path for the establishment of a significant asset portfolio for wealth generation. With a demonstrated history of success and an unwavering commitment to excellence, it has ascended as a frontrunner in offering flexible and rewarding investment options.
In this guide, we seek to debunk the myths surrounding fractional ownership and highlight the many advantages it provides to both domestic and foreign investors. This article will work as your compass, leading you through the fascinating world of our buy-to-let fractional ownership solutions, whether you're an experienced investor trying to diversify your portfolio or a first-time buyer ready to enter the real estate market. 
What is Buy-to-Let Fractional Ownership in Properties or Fixed Assets?
Multiple investors buy a share or portion of a property or asset through a specialised platform or firm in buy-to-let fractional ownership. Investors own a share of the property, including ownership rights and rental income equal to their investment. This technique lets individuals invest in real estate with less capital, share duties and costs, and perhaps diversify their portfolio across several properties or assets, making it more accessible and varied.
Benefits of Novyy's Buy-To-Let Fractional Ownership Model
Investment Portfolio Diversification
Fractional ownership facilitates portfolio diversification by enabling investment in different types of properties across various locations, thus mitigating risks associated with market fluctuations or property-specific issues.
Lower Entry Costs
Compared to sole ownership, fractional ownership substantially reduces the financial outlay by distributing the costs of acquisition, maintenance, and other related expenses among multiple investors.
Access to Premium Properties and Locations 
Investors gain entry to high-end properties and prime locations which may otherwise be out of reach for an individual investor.
Shared Responsibilities and Risks
Costs of maintenance, upkeep, and rental operations are shared among investors. This enables more efficient use of resources, lightens individual workloads, and reduces the risks involved.
Rental Income Generation
Fractional ownership enables the generation of steady rental income, which is distributed among the co-owners in proportion to their shares. This creates a passive income stream which can offset investment costs and potentially yield profitable returns.
Professional Management
Often, fractional ownership schemes include professional property management services, relieving investors from the burdens of tenant selection, rent collection, and property maintenance.
Liquidity and Flexibility
Fractional shares in properties can sometimes be more easily traded or sold compared to whole properties, offering investors increased liquidity and flexibility in their investment strategies.
Collective Bargaining Power
Being part of a group of co-owners can enhance bargaining power in various property-related negotiations and decision-making processes.
Cost Efficiency in Property Usage
For those investing in holiday homes or other usage-based properties, fractional ownership allows for the enjoyment of the property without the full expense of owning it year-round.
How the Buy-to-Let Fractional Ownership Model Works at Novyy?
Sourcing Income-Generating Assets
Our seasoned team, armed with years of experience and an impressive track record in acquiring income-generating assets, excels in identifying promising deals with substantial potential for investors throughout the investment cycle.
Due Diligence and Acquisition
Upon pinpointing a viable asset, Novyy undertakes rigorous due diligence and coordinates with stakeholders, accountants, and solicitors to facilitate the acquisition process. The asset is procured within a Special Purpose Vehicle (SPV), which retains all asset functionalities and holds its title.
Investment in the SPV
The SPV's shares are made available for fractional owners to invest in. By owning shares in the SPV, investors indirectly assume ownership of the asset, while Novyy continues to oversee its management.
Asset Management and Income Allocation
We assume responsibility for managing the asset, including tenant relations and other obligations, on behalf of the investors. Furthermore, Novyy allocates the net income generated by the property proportionately among the fractional owners.
Revenue Sharing with Novyy
Property owners share a minor portion of the net rental income and capital gains accrued from asset appreciation with Novyy. This sharing arrangement affords investors the luxury of a hassle-free experience akin to being a landlord, with Novyy handling the complexities.
In sum, Novyy offers a comprehensive, end-to-end service that enables you to participate in lucrative real estate investments through fractional ownership, while expertly handling all aspects of asset management.
Benefits of Novyy's Buy-to-Let Fractional Ownership Model for Domestic Investors
Effortless Diversification
Our model enables domestic investors to effortlessly diversify their portfolios by holding fractions in an array of properties across different regions and types. This diversification not only mitigates risks but can also bolster overall investment returns.
Accessibility and Affordability
Our buy-to-let fractional ownership significantly lowers the entry barrier compared to traditional real estate investments. This inclusivity enables a wider range of investors, including those with limited capital, to partake in and benefit from lucrative property investments.
Hassle-Free Professional Management
Our all-encompassing management services include tenant selection, rent collection, property maintenance, and the handling of day-to-day operations, thereby ensuring maximum rental income potential. This alleviates the burden of management tasks for domestic investors, affording them seamless ownership experience.
Compliance Ease
With the escalating regulatory demands of being a professional landlord, our expert handling of compliance matters liberates domestic investors from the daunting and time-consuming aspects of meeting regulations.
In essence, Novyy presents domestic investors with an enticing, accessible, and hassle-free pathway to real estate investment, offering expert diversification and management services that facilitate wealth creation without the traditional burdens of property ownership.
Benefits of Novyy's Buy-to-Let Fractional Ownership Model for Foreign Investors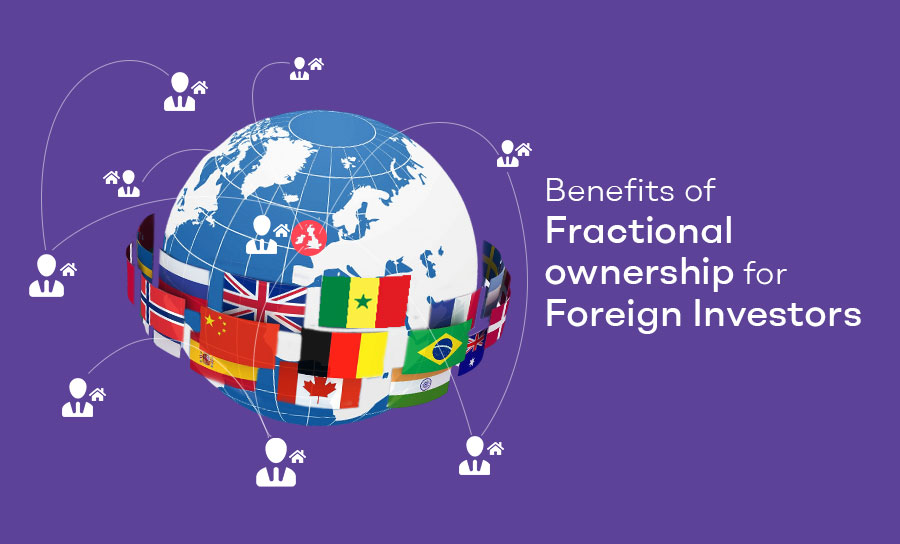 Coveted UK Real Estate Exposure
Our buy-to-let fractional ownership model enables foreign investors to tap into the most profitable rental property market in the world – The United Kingdom. They can take advantage of investing in bite sized portions and build an envious portfolio of income generating UK assets.
Access to Premium Deals in Prime Locations
Through Novyy, international investors gain entry to sought-after properties situated in prime locations, including vibrant city centres, coveted university towns, and emerging business districts boasting high growth potential - assets that might otherwise be inaccessible.
Comprehensive Professional Management and Support
We provides foreign investors with an invaluable sense of security by offering exhaustive end-to-end services. These services encompass tenant relations, property maintenance, and equitable distribution of rental income. This means they could be anywhere in the world yet enjoy the benefits of owning income generating assets in the UK.
Streamlined Cross-Border Investment Process
Novyy facilitates a seamless investment experience by adeptly navigating the complexities of cross-border transactions, ensuring compliance with international regulations and handling currency exchange considerations.
Investing in a Well-Regulated Market
The United Kingdom is renowned for its robust and well-regulated real estate market. By investing through Novyy, foreign investors can take advantage of the UK's stringent regulatory framework, which ensures transparency, fairness, and legal protection. This adds an extra layer of security and confidence for investors, as they can be assured that their investments are safeguarded by established legal and regulatory standards.
In summary, Novyy empowers foreign investors with a streamlined pathway to diversify their portfolios through exposure to the reputable and well-regulated UK market. With comprehensive management and support services, Novyy presents itself as an attractive and secure option for international investors seeking to capitalize on diverse and lucrative property investment opportunities.
How to get started with Novyy for Your Buy-to-Let Fractional Ownership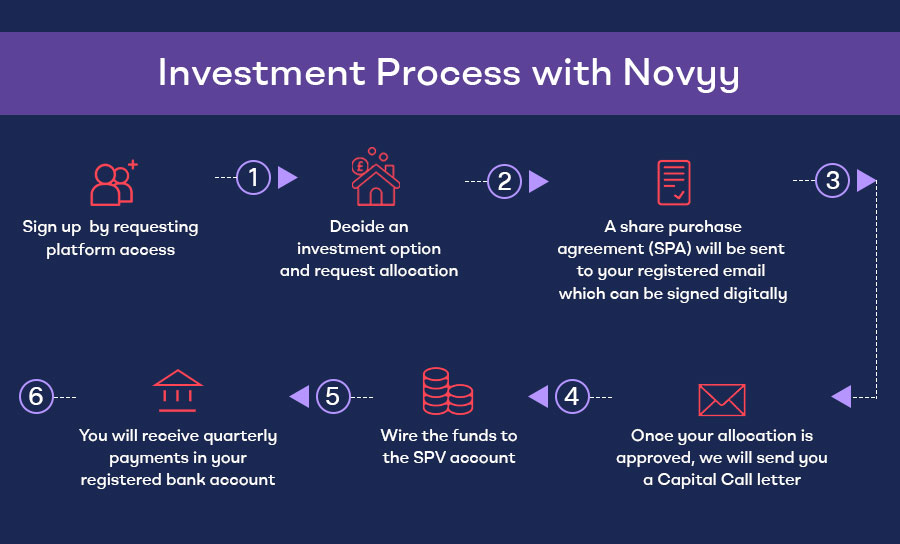 Kick-start your investment journey by exploring Novyy's extensive range of investor portfolios. Schedule a personalized meeting with Novyy's investment management team to delve into property specifics, financial projections, and other relevant information. Assess the available investment options considering your financial goals. Don't hesitate to ask questions – the more, the better. This phase is crucial in identifying the investment that aligns with your objectives.
In Summary
Real estate investing is a daunting task, and Novyy's goal is to get more individuals on the property ladder, making wealth creation and preservation a way of life. In an industry that has historically been slow to adapt, Novyy recognizes the imperative for solutions that align with modern-day requirements. By embracing technological advancements, Novyy is not only adapting to the evolving landscape but is leading the charge in redefining real estate investment. This approach promotes a model where the investor is equipped with enhanced control and precision in decision-making.
Novyy distinguishes itself as a pioneer in the sector by providing a transparent and secure investing platform, hassle-free property administration, and adaptable investment options, and looks forward to changing the real-estate investing landscape to a more modernized and tech-enabled solution with more power in the hands of the investor. Be a part of this progressive shift in real estate investment and experience the benefits of structured, secure, and technologically enabled investment solutions.
Come join the Real-estate Revolution!