Rising to New Heights: Exploring the UK Real Estate Landscape in 2023
Residential, commercial, and industrial properties are all part of the dynamic and significant UK real estate industry. It is essential to the economy of the nation as it draws both domestic and foreign investors. The UK real estate industry is a pillar for house ownership, company growth, and wealth development because to its wide variety of property types and investment opportunities. The UK real estate market offers a diverse tapestry of properties, from bustling city centers to scenic rural regions, making it an appealing and flourishing sector for both buyers and sellers.
With record-high house prices dominating headlines recently, the UK housing market has been a source of ongoing discussion and curiosity for the UK real estate industry. Forecasts and analysis point to a probable change in the market dynamics as 2023 approached. The UK real estate industry is displaying encouraging signals of stability and expansion. Despite the difficulties brought on by the current economic situation, the sector has proven resilient and adaptable. This article gives a quick overview of the UK real estate prognosis for 2023, noting important elements that have contributed to its upward trend and providing information on prospective future prospects.
Getting Around in the Wind: A Difficult Environment
The UK real estate industry faces substantial obstacles in 2023 as it battles a number of difficulties that could jeopardise its stability. On the market's path to sustained expansion, rising interest rates, declining affordability, and economic uncertainty all pose significant challenges.
The rise in mortgage rates, which has discouraged potential purchasers from entering the UK real estate market, is one of the major factors impacting this trend. The value of new mortgage commitments decreased significantly by 40.7% in the first quarter of 2023 compared to the same period last year, according to recent data from the Bank of England.
Several variables affecting the UK real estate industry are to blame for the rise in mortgage rates. To protect themselves against possible losses, lenders have started removing mortgage products from the market and changing their interest rates. As a result, compared to the 2% rate seen earlier this year, the average two-year fixed mortgage rate has more than doubled, currently hovering at roughly 5.75%.
Concerns about Affordability: Balancing the Price-Earning Equation
Aspiring homeowners now face a substantial obstacle as a result of rising home prices, stagnant wages, increased debt loads, and rising living expenses. House prices to wages have climbed from 5 to over 10 times since late 2000, with London being the most obvious example of this trend. Concerns about affordability could result in less demand, which could cause a potential decline in house prices.
Economic Expansion: A Slowdown is Looming
Forecasts for 2023's economic growth show a decline compared to 2022. A weak economy frequently results in job losses and weakened consumer confidence, both of which can have a negative impact on house prices. The UK economy will fall by 0.3% in 2023, according to the International Monetary Fund (IMF), before modestly expanding by 1% in 2024.
Uncertainties in the Web of External Factors
Outside of domestic concerns, there is uncertainty surrounding the UK real estate market. Brexit's economic aftereffects, rising inflation, and world events like the current conflict in Ukraine might further destabilise the market and present new difficulties for buyers and investors.
Reviewing the Most Recent Predictions for the UK Housing Market
Forecasting house prices: Using the Crystal Ball
Future house price forecasting is a difficult task that is impacted by numerous variables. In order to give an indication of future trends, several institutes have presented their predictions for the UK real estate market in 2023 and 2024.
According to Savills, house prices would drop 10% in 2023 before rising 1% the following year, 2024.
Nationwide: House prices are expected to drop by 5% nationally in 2023, before rising 2% the following year in 2024.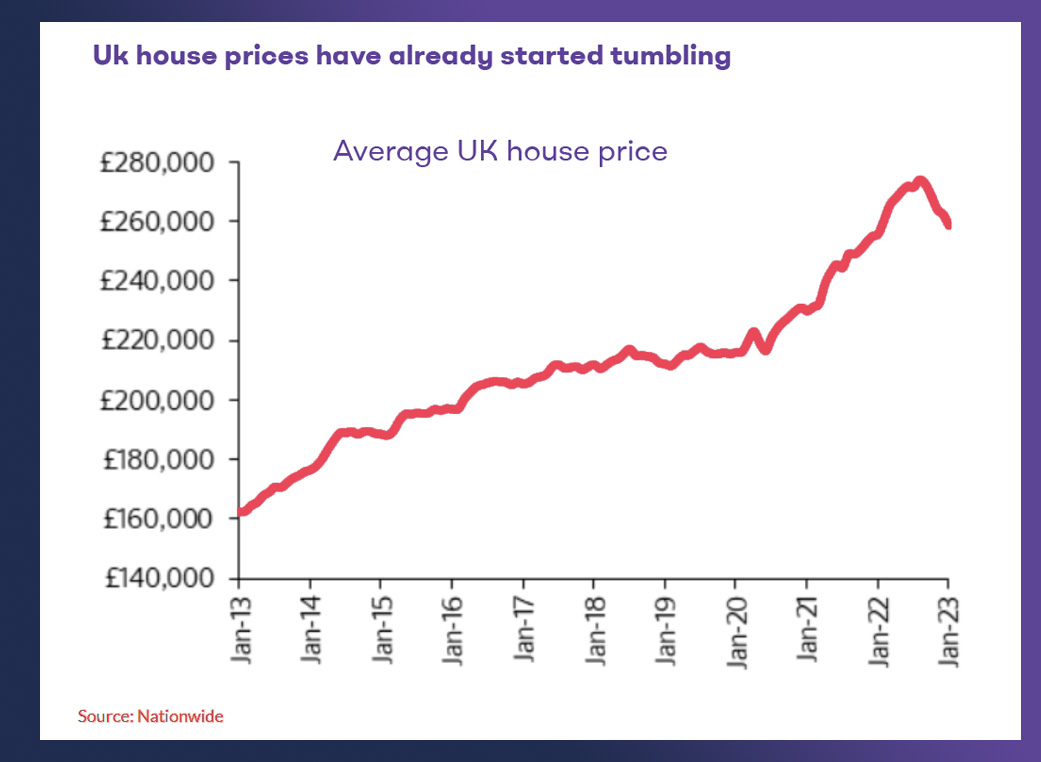 Halifax: Expects 2023 house prices to drop by 3%, then rise by 1% in 2024.
According to Capital Economics, house prices would drop by 5% in 2023 and then rise by 1% in 2024.
The most recent data from Rightmove Shows a rise of 1.8% in the house prices in May 2023. This is the highest increase in the year till date.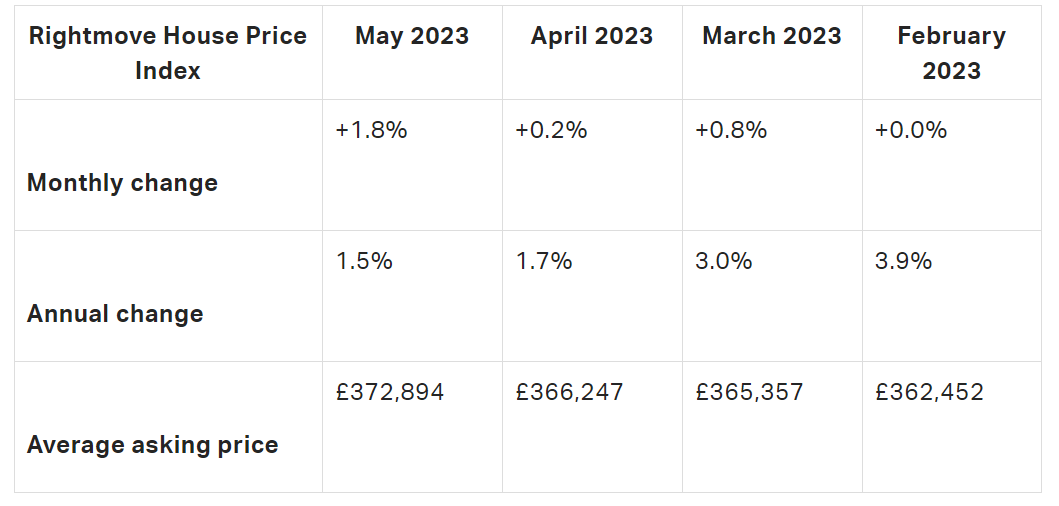 Data source: moneytothemasses.com
Although these estimates suggest a potential slowdown or drop in house price rise, it is crucial to keep in mind that specific influencing circumstances could cause these predictions to significantly deviate from reality.
Additional projections
The UK real estate market has had a fantastic start to the year, but the spring season has put price expectations to the test. Economic and housing conditions are complicated. The government unexpectedly reported a budget surplus in January, the Purchasing Manager's Index unexpectedly rose, and the FTSE100 hit a record high in February. Data from the housing and economic markets, however, present a different picture. However, as interest rates hit 4.5%, many economists start to fear an approaching recession.
Impact on House Prices
As a result of rising borrowing costs after the mini-Budget, sales and mortgage approvals have fallen in the home market. Since Christmas, however, business has been greater than anticipated, and housebuilders have provided more encouraging trading updates for 2023. Despite this, it is still anticipated that UK house prices would decrease by about 10% over the next two years, mostly as a result of the increased affordability of mortgage rates. The UK Nationwide House Price Index experienced its greatest yearly decline (-1.1%) in more than ten years in February.
Revised Forecasts
Although a fall is projected, it is thought that the slump in house prices will pass quickly. Instead of the 2% increase that was initially forecasted in October, the new estimate now projects a 4% increase in house prices by 2025. This altered prognosis is influenced by the availability of cheaper equivalent mortgage rates below 4%. A reassessment of estimates before summer is warranted if the year's strong start persists throughout the spring and a more probable likelihood of a shallower overall decrease in house prices.
Market Activity
According to recent data, the market is expected to continue to grow strongly. In February, there were 10% more new prospective buyers in the UK than the five-year average, and 42% more bids were approved. Exchanges, however, decreased by 25%, demonstrating the lasting impact of the mini-Budget that was enacted in September. Higher value markets have performed comparatively better because they are less dependent on mortgage debt. Due to factors like a bigger percentage of cash buyers, a rebound in international travel, currency discounts, and average prices in prime central London being 15% below the last peak in mid-2015, prime London markets are anticipated to outperform the UK real estate market.
Market for Rental Homes 
The supply of rental homes in prime London is anticipated to decline for a protracted period, pushing up rental prices. Because of the strength of the sales market, there might be fewer unintentional landlords, which would result in a frustratingly low supply in many locations. This year, it becomes less and less likely that the rental market will return to normal. The predictions for the top London markets have not changed since October. The supply/demand gap in the UK shows little immediate indication of closing, and difficulties with affordability in the sales market are expected to fuel demand for rental homes.
Forecast Revisions for Greater London
Greater London forecasts have been updated, with a 4% growth anticipated for 2024 (up from a 3% increase) and a 3.5% increase projected for 2025 (up from a 3% increase). Rents may rise as a result of some private landlords selling their homes because of factors such rising buy-to-let mortgage prices, recent tax changes, and potential new legal duties.
Rental Growth Outlook
A combination of lower supply and predictions of relatively strong wage growth over the next five years support a positive outlook for rental growth in the UK housing market. The favourable rental growth estimates are influenced by increased tenant demand, tax reforms, and higher buy-to-let mortgage costs.
Conclusion
In 2023, the UK real estate sector will confront difficulties like rising mortgage rates and worries over affordability. However, there are indications of flexibility and resilience. Forecasts for house prices differ, but a potential recovery is expected. The rental sector continues to experience robust market activity and has promising development potential. Uncertainties are caused by outside factors. Overall, despite a changing environment, the UK real estate market continues to present opportunities.