Why European Countries Lag Behind In Organised Buy-To-Let
European property markets have historically been a major attraction for many people, in part because of their traditional brick-and-mortar designs. More than half a million of the British population own second homes in countries such as Greece, Spain, and the Netherlands. The recent Coronavirus outbreak, along with tax and regulatory barriers, has created significant setbacks but has not adversely affected the EU property market as you might anticipate. Looking at the British economy, it has experienced many prosperous years of steady rental growth, particularly in cities such as London, Birmingham, Manchester, and Liverpool. Since the most profitable areas for buy-to-let investors are the top UK major cities, these areas are expected to see an increase in tenant demand, leading to a steady rise in high-end property prices.
However, unlike the UK where Buy-To-Let and Build-To-Rent are mainstream, developed industries, financed by banking and pension institutions, private equity firms and high-net worth investors alike, most European countries are yet to catch up with this trend. We examine the reasons behind why this lag exists and if there is an opportunity for investors.
Unorganised renting market – In most European markets, the renting market is largely unorganised. Individuals, who own second properties, rent them out to other individuals who wish to rent from them. While this was the case in almost every country in the world 100-years ago, today, many developed and emerging economies like the UK, the USA, France, Germany, China, India, and the UAE have an organised renting market. These stocks are held by Family Offices, Pension Funds, Private Equity Firms, and other institutions for the sole purpose of renting, to make a return on investment. Most southern and Eastern European markets are still far behind in this organised renting.
Institutional confidence – Organised renting is largely fueled by institutional confidence and lending forms an integral part of this business. Many European banks have themselves been in a roller coaster ride since the end of Cold War in early 90s to the Financial Crisis of 2008. These banks, fueled largely by funding from Brussels, went on retail lending spree in the late 90s and early 2000s only to be surprised with the events in 2008. Like Lehman Brothers, most of these banks were on the brink of failing and had to be bailed out by some government or another.
Non-performing Loan Book from the Financial Crisis – As a result of the point made above, most banks in southern and eastern Europe are still sitting on billions of EUR worth non-performing loans which they are trying to dispose. Among those worst effected was Greece whose NPL ratio has now exceed a-third of their Loan Book. See Graph below.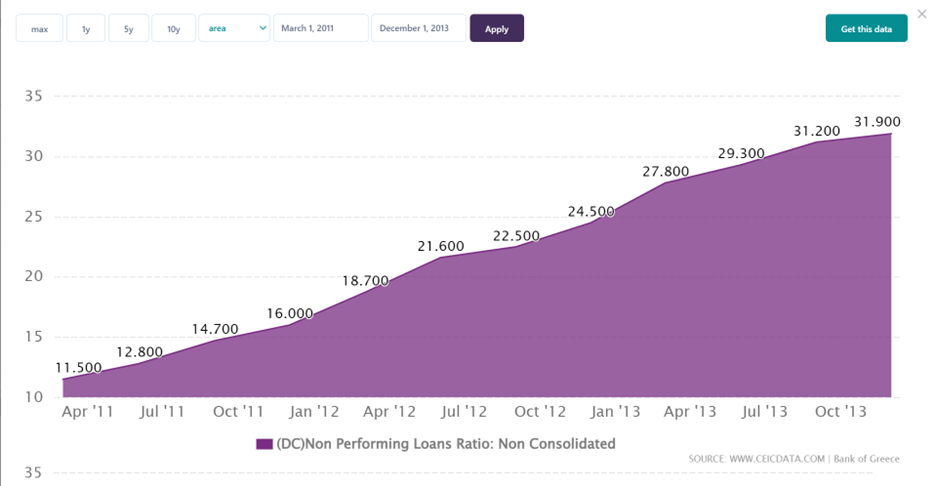 Fragmented stock – We all have seen the small alleys of European cities, with dwellings on both sides, some imposing and others-built decades ago. Absence of organised building plans and large plots of land parcels to build new dwellings results in fragmented stock. For institutional investors, this becomes a logistical constraint to Buy-To-Let or Build-To-Rent.
Availability of Private Capital – Private Capital seeks safety and most European countries do not inspire confidence among private investors. These investors would rather be in the UK, the US, China, or India, than being in Greece, Portugal, Poland, Italy, or Spain. While some private equity firms have now started to take baby steps in southern Europe once again, the numbers are far smaller than their exposure in other major markets like the UK.
What is the productivity of the euro area?
Here are some interesting investment ideas in Europe
Investing in Ireland
A sure bet for a certain type of property investor is Ireland, since it offers business-friendly policies, some of the lowest taxes in Europe, and one of the continent's best residencies by investment programs. With a GDP/Cap Growth of 42% over the past five years, Ireland has ranked among the top, just above Malta, Moldova, and Turkey. As a result of growing consumption and exports in Dublin particularly, many international investors are investing in the country's economy. Ireland is drawing significant private capital in the Build-To-Rent space over the past 5-6 years.
Investing in Berlin, Germany
Berlin offers a very affordable real estate market, as well as a promising future with plenty of growth potential. Aside from its attractive entry level prices, Berlin also offers a high rate of capital appreciation, which is currently around 13%, which makes it a good choice over cities like Hamburg, Frankfurt, and Munich. Despite the current cap on rental rates, landlords continue to enjoy high rents, and expect to be able to raise rent prices at least through January 2022, unless the constitutional court overturns the ruling that established the freeze. Berlin's real estate market continues to be in high demand, resulting in lucrative investments.
Investing in Lisbon, Portugal
Banking and financial laws in Portugal were strengthened and changed following the global financial crisis in 2008, in order to provide investors with guarantees, stability, and safety through the assistance of third parties. PwC has ranked Lisbon 16th on their list of the most attractive European cities for real estate investment in 2022, ahead of Athens and Istanbul. A confluence of hot weather and many days in the city center have resulted in Lisbon offering excellent value for money, regardless of whether it is buying an old apartment in the center to renovate and rent out or purchasing a new house in a preferred location in the capital. While a very small market in its own right, its geographical situation makes it somewhat better than neighbouring Spain.
Investing in Spain
With its diverse cultural and historical elements, favorable climate throughout the year, and comfortable living conditions, Spain is a popular investment destination for British investors and foreign buyers. According to How To Buy In Spain, Spain has a few major cities that have a good return on investment with Madrid coming in at the 7th rank in Europe at 3.9% of return, 1.1% higher than Barcelona. While Covid caused uncertainty in the economy in 2020, the market has rebounded strongly both in terms of transactions and prices since 2021.
Investing in Italy
There are delightful natural environments, cultural heritages, historical landmarks, and delicious foods and wines in every region of Italy. With those in mind, purchasing property in Italy is a good investment since transaction costs are lower than in other European countries, such as Spain or Portugal. The interest rate on properties is currently at an historical low, which makes owning a property a very wise investment.
Buy-To-Let outlook in the UK
With a population of 66 million, the UK has the sixth-largest economy in the world after the U.S., China, Japan, Germany, and India. More than 17 percent came from the manufacturing industry and 72.8% from the service industry. Almost all of the UK's GDP is generated by the services sector, and tourism in particular plays a vital role in the economy. A lack of funding has never been a problem for the UK economy to generate wealth, however, how can it strive at the same pace for more countries within the European Union?
Buy-To-Let is likely to continue to be a wealth creator as Europe plays catch up. The current interest rate scenario might be a short-term dampener, but investors are likely to keep pumping in capital in the near term. It is always a good time to "buy to let" in the United Kingdom.