Co-Living and Co-Working Revolutionizing Spaces in the UK
In recent years, the idea of renting has changed, and the rise of co-living is at the forefront of this evolution. It is more than simply a fad; it offers a novel approach to residential real estate, addressing long-standing problems in the rental industry like short-term leases and poor maintenance services.
It addresses these issues by adjusting real estate and property management in a professional and extensive manner to meet the unique requirements and preferences of various demographic groups. Co-living differs from traditional renting in that established, large-scale businesses own and manage the residences.
The way people live and work has undergone a profound transformation in the UK in recent years. Co-housing and co-working spaces, a dynamic and inventive concept, are replacing traditional workplace cubicles and solitary living arrangements. This new trend is altering not only the urban environment but also the way people and companies conduct business in the UK.
The growth of Co-housing and co-working spaces is a reaction to the evolving requirements and preferences of a contemporary, digitally connected society. It appeals to a generation that places a higher importance on experiences, community, and adaptability than on established conventions. Let us examine the factors that have contributed to the amazing expansion of these shared spaces in the UK, as well as the difficulties they confront and any potential repercussions for how people will live and work in the future. This trend is changing the way we view the distinctions between work, life, and community, from converted warehouses in London to purpose-built complexes in Manchester.
Why is co-living becoming more and more popular?
Co-living and co-working are on the rise in the UK, according to a study (image form).
Co-Living Trends
Increased Renting Population: As restrictions on buying continue and private landlords lessen, co-housing becomes more widespread, increasing renters.
Quality: After the pandemic, tenants prefer well-maintained properties for their comfort.
Affordable Housing: Rising rents in popular neighbourhoods cause outpricing; co-housing offers good locations at low prices.
Integration of work and living: Dedicated offices in or near co-housing places are in demand as more individuals work remotely.
Mental well-being: Post-lockdown mental health awareness drives co-housing's built-in networks to eliminate loneliness and promote wellbeing.
Coworking Trends
Flexible Work Culture: As more individuals work from home, flexible, convenient co-working places are needed.
Community networking: co-working spaces attract businesspeople seeking relationships and collaboration.
Diverse Amenities: Co-working spaces include ergonomic workstations, meeting rooms, and event spaces.
Professional Nomads: In uncertain times, professionals prefer co-working to office leases.
Technology-driven efficiency: Coworking spaces simplify bookings, payments, and communications for professionals.
In the UK, there are an increasing number of co-housing and co-working spaces, which reflect changing desires for convenience, community, and affordability in both the personal and professional arenas. The way people live and work in the UK's urban environment is changing as a result of these factors.
The Thriving Co-Living Landscape in the UK: Embracing Community-Driven Living
People's lifestyle choices in the UK have seen a dramatic transition recently, spurred on by a need for convenience, community, and flexibility. Despite being very new, the co-housing industry is expanding at a never-before-seen rate. Let's have a look at some statistics in the co-housing sector.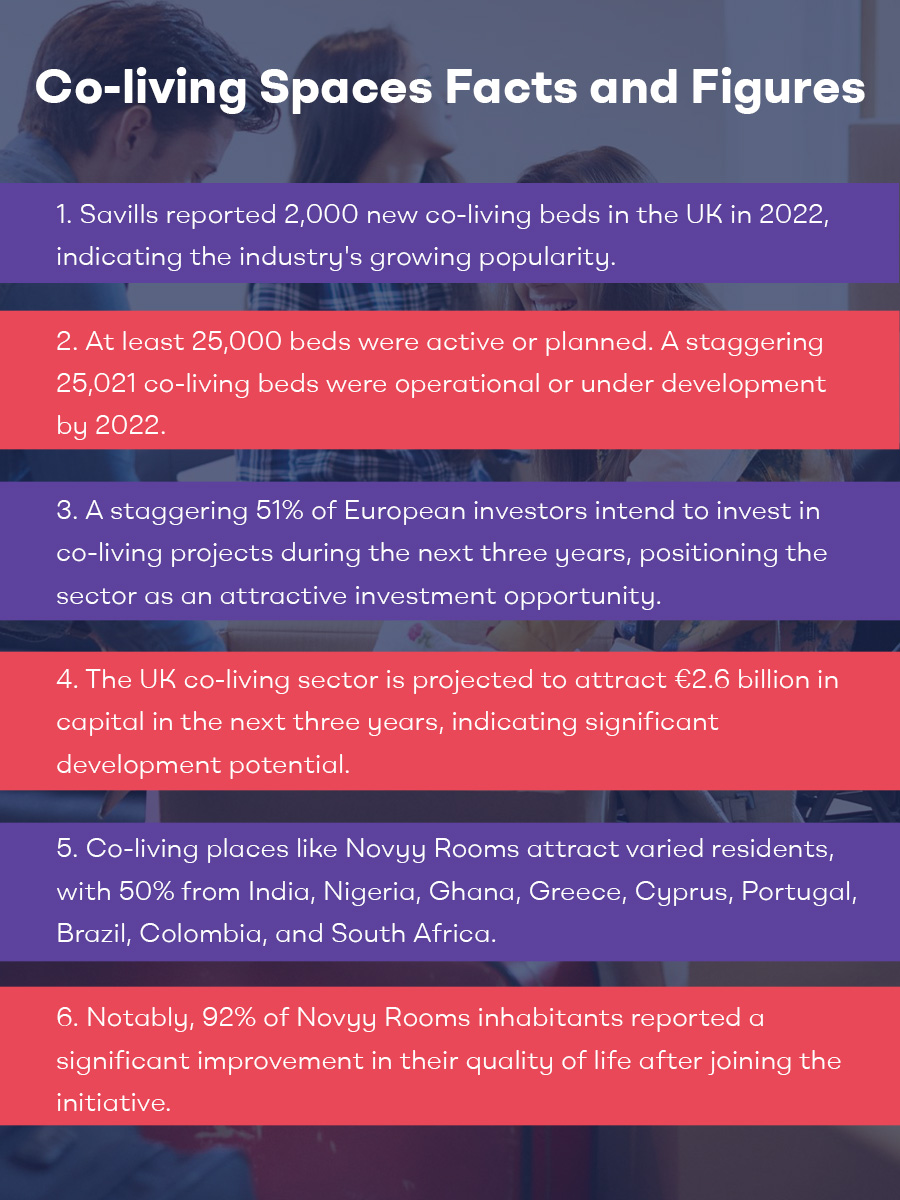 The pandemic's impact
Since the COVID-19, activity in the co-housing industry has more than doubled. Over the past few years, the sector has quickly acquired speed after beginning in its infancy. The UK's operational co-housing bed count increased from 2,000 to 3,422 in 2022, a more than twofold increase.
With an additional 4,999 beds currently under development, the co-housing sector's pipeline is also humming with activity, suggesting a bright future for this trend.
A Rise in Appetite and Development:
The COVID-19 pandemic, which started in early 2020, seems to have functioned as a stimulus for the co-housing industry. Applications for 10,520 co-housing beds were received countrywide in the five years before March 2020. Plans for an additional 12,150 beds, however, have been submitted in the three years since the pandemic's beginning. This increase of activity demonstrates how deeply interested and committed lenders, investors, and developers are to the co-housing market.
Emphasis on Community and Interaction
Co-living has grown to be a popular option for people looking for a feeling of community and connection, especially during uncertain times. This is because it places a strong emphasis on encouraging resident contact and community. Below is a representation of how the demand for co-housing shifted after the pandemic.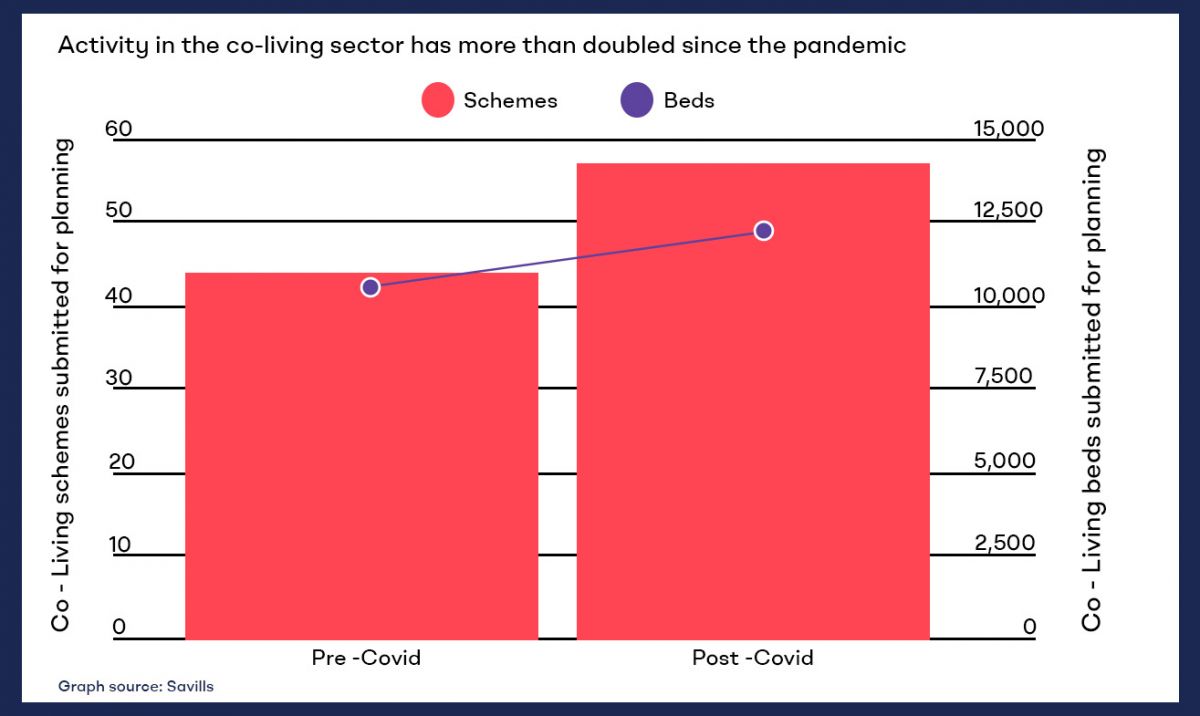 Exponential Growth: co-housing's Effect on the UK Rental Market
The Potential of Co-Living in the UK
By 2026, London alone is expected to have 9.5 million inhabitants, and the private leased sector is preparing to meet this rising demand, which is expected to reach an astonishing 35%. co-housing emerges as a powerful force in this environment, ready to transform how people live and rent in the UK.
A Hidden Market in London Shared Housing
515,000 people currently live in shared housing in London, according to official statistics from the Office for National Statistics. However, this statistic only includes licenced HMOs (Houses in Multiple Occupation), which account for a small portion of the market, and is based on a conservative estimate of 2.5 people per household. These facts make it clear that the co-housing market may be up to three times greater than the data previously stated.
Diverse and Inelastic Co-Living Demographic
The co-housing market in the UK, often known as the "flat-share market" in London, has a diversified population with a high concentration of people between the ages of 18 and 35. The market is inelastic and fragmented, and the demand for cost-effective, locally driven housing solutions is always rising.
Getting Access to the £5.35 Billion Market
The co-housing industry in the UK is not only growing but also looking financially rewarding. co-housing, with a total annual market value of £5.35 billion, is positioned for strong expansion. The appeal of big cities, which draws young people from domestic and foreign locations, calls for the provision of alternatives for inexpensive housing. co-housing is perfectly positioned to fill this need because of its cheap administrative costs, broad clientele, and robust market demand.
Increasing Returns with Strategic Spaces
Co-living has several noteworthy benefits, including the capacity to offer better profits per square foot compared to conventional residential arrangements. Additionally, it taps into a sizable market, particularly in major cities where housing alternatives are constantly in demand. Opportunities in this industry have been further enlarged by the coronavirus pandemic, and underutilised spaces, particularly in use-class properties, serving as ideal candidates for co-living conversions
The Future of Co-Living in the UK
The deliberate purchase of buildings with lengthy leases or freeholds, followed by the construction of co-living facilities, is how the UK co-living market is envisioned. This business is undergoing radical change as a result of the transition of conventional residential and commercial areas into thriving co-living communities. Under approved development, acquired commercial spaces can be converted into co-living spaces, ensuring flexibility and adaptability in the quickly shifting real estate market.
Opportunity is here.
The benefits of co-living are numerous in this dynamic environment. Average co-living sector incomes frequently surpass those of traditional buy-to-let apartments by a startling 45%, making it a very alluring investment opportunity. Co-living is positioned to play a significant role in the UK housing market by providing affordability, community, and profitability in equal proportion as the population expands and metropolitan centres prosper.
In Summary,
The growth of co-living and co-working spaces in the UK is evidence of our shifting preferences and demands in the dynamic world of modern living and working. These shared places have quickly evolved from niche ideas to powerful forces influencing the way we interact, live, and work.
In a nation with a rapidly rising population, co-living responds to the growing need for affordable, community-driven housing alternatives. Not only does it provide ease and flexibility, but it also holds out the prospect of a thriving, encouraging community—an essential element of wellbeing generally but especially in trying times.
However, co-working facilities serve a workforce that increasingly values flexibility over conventional office layouts. They encourage networking, innovation, and collaboration in a time when remote work is the norm.
The statistics speak for themselves. The co-living industry is poised for continuing expansion, with thousands of new co-living beds created in recent years and significant investments coming in. Because of the sector's potential for increased returns and resiliency, investor confidence is still high.
Although these communal areas provide many benefits, it's important to take into account the potential concerns. In our other blog, we go into greater detail about these risks and provide mitigation techniques so that your co-living investment experience is as successful as it is hopeful.