What is the Real Estate Outlook for London UK?
London has kept its reputation prominent in attracting as many investors as possible. These are not only domestic investors, but also those from Asia, the United States, Russia, the Middle East, and other parts of the world.  It is regarded for its long-term investment qualities, as well as its high level of stability and liquidity. Since a few years, London has been the centre of attraction for its luxury residences, which offer Thames view mansions and apartments, as well as all the luxury facilities one could need. 
The Between Jan 2023 to Apr 2023 a -15% drop in the prices of detached houses were noticed. Prices went from £1,875,496 (Jan 2023) to £1,600,269 (Apr 2023). In addition, flats were sold with a 2% increase with price in Jan 2023 as £584,259 and price in Apr 2023 as £593,606. These had happened because of the rising borrowing costs, interest rates, and government policies.  
In this article, we are presenting a complete London real estate outlook which might help you with your property investment decisions. You might add this place in building your wealth as well as portfolio. 
London Real Estate Market

Before Pandemic
Housing Price: 
Life throughout the entire world was relatively easy prior to the pandemic. Many property professionals and seasoned investors have observed that London's real estate market has expanded 74% in a decade, and this was reported prior to the pandemic, i.e. by 2019. 
In terms of London real estate, house prices increased by 5.7% in June 2015, after increasing by 5.6% in May 2015. According to Land Registry data, the average house price in 2015 was £419,474, and it is expected to be £479,969 by June 2020. From 2015 to 2020 June, housing prices rose 14.42%. 
Rental Yields: 
In terms of rental yields, the median rental value in London in June 2015 was 105.7% greater than the rest of the UK (£759). In June 2015, rents in London climbed by 10.6%. Rental yields have risen since then, and by June 2020. If you had invested in London in 2020, you would have seen rental yields ranging from 5.5% to 6.5% in most boroughs such as Barking & Dagenham, Guildford, Harrow, and others.   
Economy: 
The UK saw substantial volatility between 2015 and 2020, with interest rates rising from 0.5% in 2015 to 0.10% in 2020. Brexit, the war between Ukraine and Russia, and other political factors have all taken their toll on the UK economy. 
London Real Estate Market Current

Scenario 
London has witnessed an increase of 70% since the 2007 top marks. Below is a graph from home.co.uk that displays the median sales price of each type of property from January 1995 to April 2023. Since 1995, there has been a spectacular movement in home selling prices. Examine it out!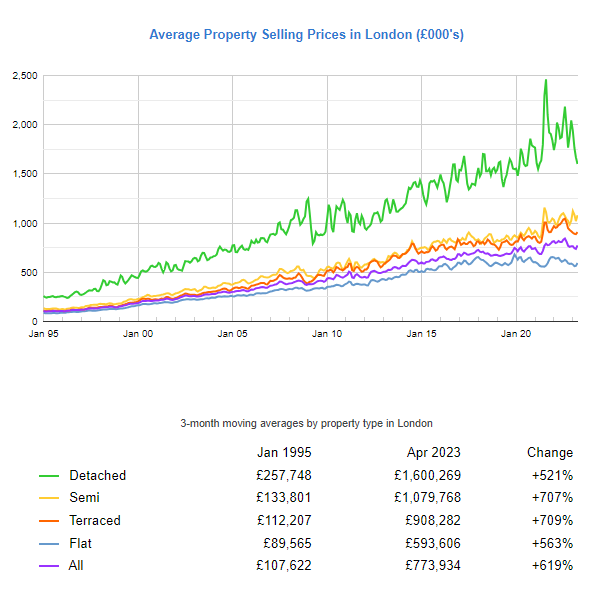 The UK real estate market has expanded dramatically in recent years. When it comes to the British capital, London, it has shown a little lower growth rate of 7.4% in the first quarter of 2022. It represents a median rise of 5.18 million above the previous year's gain of 4.8%.  
Housing Prices: 
According to Land Registry Data, prices fell from £536,342 in January 2023 to £533,687 in April 2023. The percentage change in property prices in January 2023 was 3.70%. In April 2023, it dropped to 2.37%. Furthermore, Savills reported that London housing prices were flat (0.1%) in the first quarter of 2023. Furthermore, annual growth in central London has fallen below (-0.2%) for the first time since March 2021.  
It has also gained favour with investors because cheap housing prices boost affordability, and flats and apartments have been in high demand in this context. However, a new fixed-rate mortgage with a two-year term at 6.15% may cause problems. This means that rising interest rates, borrowing, and mortgages will undoubtedly have a significant impact on housing values in the future years.  
Rental yields: 
In general, rental yields in London are between 3% and 4%, but only until 2022. According to the most recent ONS data, London has the highest average rental income, which is £1,500 per month for a four-bedroom house. Single rooms in London have the lowest monthly rental yields (about £460). Rental yields from BTL were 6% in 2022, have since fallen to 5%, and are predicted to fall to 4% in 2024.  
Economy: 
The United Kingdom's economy is in disarray. Inflation, rising interest rates, borrowing costs, and changes in mortgage rates have all had a direct impact on the house price index. Interest rates are currently at 5%, and experts expect that they will rise by 6% by the end of 2023. Fixed-rate mortgages are now available at 6.15%. According to the ONS, the CPI will have reached 8.7% in May 2023. The BOE is working hard to deal with increasing inflation and economic uncertainties.  
London Real Estate Outlook Future Scenario
Both the UK people and investors have crossed their fingers for some financial stability in the next years. Let us see what happens in the future years.  
Housing Market: 
It will almost certainly grow now that the decrease in house values has peaked. According to a new Knight Frank poll, the UK housing market sales estimate for Greater London remains -6.0% in 2023 and will rise to 5% in 2027. The year 2024 will be difficult for property prices, but by the end of the year, things will be better, and the authority has forecasted a 3.0% increase in sales by 2025. 
Rental Yields: 
According to Hamptons data, rental yields have risen to 6%. Currently, rental yields are at 5% in 2023 and will fall to 4% in 2024. 
Economy: 
To attain the 2% target rate in 2024, interest rates may rise by 6%. Simultaneously, specialists anticipate 2024 as the year that will define the approaching future.  
London property prices are expected to fall in 2023 due to higher borrowing costs and inflation. However, JLL UK specialists predict a 15% rise in house prices over the next four years, with 68% GDP growth, 6.9% household disposable income, and 2.7% employment growth. The UK is expected to experience a modest recession in 2023, causing challenges in the property market, including higher debt costs and reduced investment volumes. Real estate investment markets will emerge from uncertainty, with pricing stabilizing and activity picking up. Investors must adapt to tough conditions for equity and debt capital deployment.