Buy-to-Let Student Housing: Why It's a Wise Investment in the UK?
In recent years, buy-to-let investors have garnered a lot of attention for the student housing market in the UK. There are various reasons for the increase in demand, which makes this industry an alluring investment prospect. For reasons like increasing university enrollments and an influx of overseas students, this industry enjoys steady and expanding demand. The lack of purpose-built student accommodation in many university towns and cities, which enables landlords to secure high rental yields, further fuels the demand.
Additionally, this industry has higher rental yields than conventional residential homes. The opportunity to rent out specific rooms or flats inside PBSA complexes offers the possibility of larger rental revenue. This multiple-occupancy strategy can greatly increase the total rental income and generate the possibility of long-term rental growth. Additionally, because universities increasingly offer classes all year and allow overseas students to stay during the summer, student housing in popular university towns and cities regularly generates income all year.
For buy-to-let investors, investing in this industry offers an appealing option since it combines steady demand with the possibility of good rental yields. The benefits and advantages of investing in student housing in the UK will be covered in more detail in the article that follows, along with the elements that make it a profitable and satisfying investment for savvy investors.
Benefits of Investing in UK Student Housing
Tax Benefits
Investors in buy-to-let student housing are exempt from paying stamp duty. The potential exemption from Stamp Duty is a big advantage of investing in the UK's buy-to-let sector. Investors in purpose-built student housing are notably benefited by this tax exemption scheme, making it a desirable choice for those wishing to maximise their earnings in this specialised industry.
Improved Returns and Long-Term Stability
Compared to other types of real estate investments, buy-to-let for student accodomation investments provide the potential for larger and longer-term profits. Investors can arrange certain rental agreements or long-term leases with PBSA, ensuring a steady and predictable income stream over time. These contracts, which frequently cover several academic years, ensure regular returns and reduce the risks brought on by vacancies or variations in rental income.
Professional Property Management
Professional property management services are often required when investing in buy-to-let student housing. These specialised management firms oversee many facets of real estate administration, including finding tenants, collecting rent, maintaining the property, and adhering to rules. Investors may concentrate on other issues while ensuring efficient and effective control of their student housing investment when they entrust the management of the property to seasoned specialists.
Increasing Demand
In the UK, the market for purpose-built buy-to-let student accommodation is very strong and has a bright future. The need for appropriate housing is growing along with the number of students attending universities. The requirements and tastes of students are catered for precisely in purpose-built student accommodation, which provides contemporary conveniences, communal areas, and accessible locations close to educational institutions. Strong and increasing demand guarantees a continual stream of potential renters, lowering the chance of extended vacancies and providing a consistent stream of rental revenue for buy-to-let owners.
Facilities and Amenities of the Highest Quality
Investors may give students access to first-rate facilities and services that improve their living experience. High-quality living areas, such as en-suite bedrooms, community lounges, study areas, gyms, and laundry facilities, are frequently found in specially constructed student housing. In addition to drawing in students, these attractive features also help landlords obtain higher rental rates, potentially improving their return on investment.
Positive Media Coverage
Because of its contribution to the educational sector and local economies, the buy-to-let student housing industry has developed a positive reputation and received favourable media attention. As it promotes students' academic endeavours and contributes to the development of university towns and cities, investing in this sector is consistent with the principles of socially responsible investing. The favourable public perception and media coverage of buy-to-let student housing can increase the marketability of the building, draw in a wider pool of prospective tenants, and possibly increase occupancy rates and rental demand for investors.
Reasons for the UK's Rising Demand for Student Housing
In comparison to the 306,000 applicants in 2021, The Guardian reports that 320,000 sixth-formers have applied for university places in the UK in 2022, a 4.5% rise. Beginning in 2022, the UK's purpose-built student accommodation (PBSA) averaged £7,374 per year in rent. This is a rise of 16% from pre-Covid levels and 4.4% over the previous year. The average rent has gone up by 61% since 2012.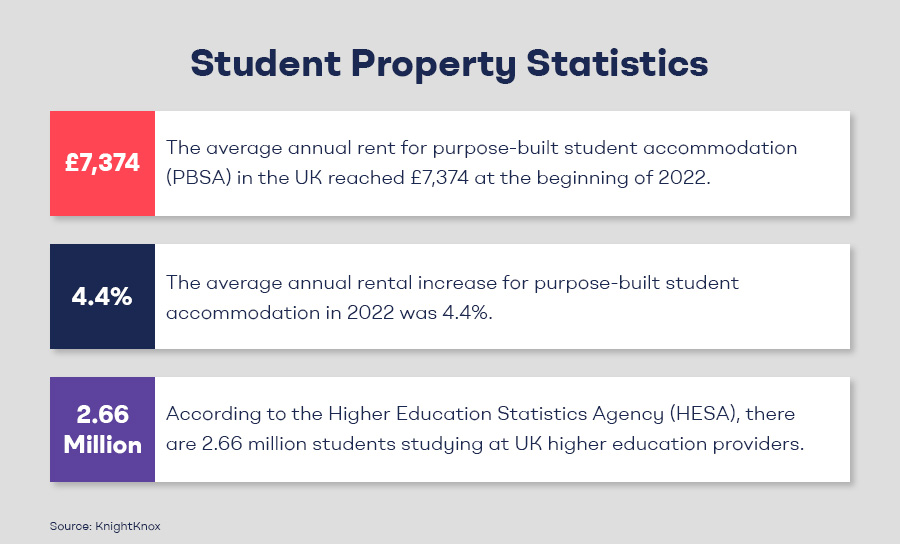 Top UK Locations for Student Housing Buy-to-Let Appeal: Maximising Returns
Swansea tops the list with an impressive average rental return of 9.56% and a monthly rental revenue of £18,178.
Hull offers excellent investment prospects, with an 8.60% average rental yield.
The average rental yield in Plymouth is 8.41%, so investors may anticipate positive profits.
With an average rental yield of 8.25 percent, Liverpool presents an appealing investment prospect.
Coventry's average rental yield of 7.91% reflects the city's popularity and the stability of the local rental market.
Chester offers consistent earnings, with a rental yield that is above 7.5% on average.
Stoke provides landlords with yields that are more profitable than the industry average of 7.5%.
Lincoln maximises profits, with an average rental yield above 7.5%.
On average, Preston brings in £19,178 in rental income per year at a rental return of 8.01 percent.
With an average rental return of 7.62% and a yearly rental income of £19,052, Leeds has the potential for capital growth.
Key Insights:
In smaller university towns and cities, buy-to-let properties for students provide enticing investment prospects.
These areas surpass big cities with higher average rental returns that range from 7.5% to 9.56%.
The share of PBSA is often lower in smaller towns and cities, providing investors with opportunities in a less competitive market.
A number of high-performing areas for student housing investments in the North of England show the potential for development and profitability.
As the UK continues to be a popular choice for domestic and foreign students, investment in these areas is in line with the rising demand for high-quality housing.
Landlords who already own rental properties express a significant willingness to increase their student buy-to-let holdings, demonstrating their faith in the sector's long-term stability and profitability.
Future Prospects for the Student Housing Buy-to-Let Market in 2023
The market forecast for student housing buy-to-let is promising as we look ahead to 2023. Let's examine a carefully curated summary of the data to get a sense of what to anticipate for buy-to-let investments in student housing over the course of the upcoming year.
• Student Enrollment is Growing
The UK's institutions continue to draw a sizable number of students, assuring a steady need for dorms. Rising enrollments continue to increase the need for acceptable housing, which supports a healthy rental market for buy-to-let homes.
• Rising Demand for Buy-to-Let Properties
The demand for buy-to-let properties is expected to rise as a result of the anticipated increase in the number of international students. International students are anticipated to return as borders reopen and travel restrictions loosen, boosting demand for student housing.
• Flexibility for Hybrid Learning Models 
The ability to adapt to changing student demands is a key feature of buy-to-let properties. Flexible leasing arrangements and adaptive living arrangements are essential for hybrid learning models of housing because they allow for quick responses to changing conditions.
• Student Preference for Quality Accommodation
Students place a premium on high-quality housing that offers modern amenities and fosters a favourable study environment. The significant demand for PBSA (PBSA) that satisfies these criteria among students makes it a desirable investment for buy-to-let property owners.
• Sustainability and Green Initiatives 
Students who care about the environment look for sustainable housing options. Buy-to-let buildings with recycling facilities and energy-saving features satisfy the sustainability requirements of student tenants.
• Technological developments
For tech-savvy student tenants, integrating technology improves their quality of life. Students who want modern convenience will be drawn to buy-to-let homes with smart locks, high-speed internet, and online maintenance reporting.
•  Regional options
For buy-to-let investors in the student housing market, smaller university towns and cities present appealing investment options. These areas provide the possibility of high rental yields and inexpensive entrances, which makes them appealing investment opportunities.
Conclusion
The UK's student housing market offers an attractive buy-to-let investment opportunity. Rising enrollments and a lack of purpose-built housing drive steady demand, which benefits landlords with appealing rental yields and long-term stability. Access to top-notch facilities and professional property management services add to this industry's appeal. Investors may maximise their returns and take advantage of the potential of the booming student housing industry in the UK by capitalising on the high demand and concentrating on top-performing areas.