6 Premium Areas to Buy London Homes for HNW Indian Overseas Investors
London has never failed to attract a large number of visitors. The city's attractiveness and allure are secondary to the enormous financial potential it offers. It's safe to say that London is the city where foreign investors are most interested in purchasing properties. When it comes to making investments or purchasing real estate, all HNW investors immediately head to London. 
In addition, most overseas investors who have homes include London in their requirements. According to data compiled by Land Lord Today, foreign investors own 36.9% of residential properties in England and Wales. 
According to data released by the Hindustan Times, $3.1 billion was made from the sale of 161 ultra-luxury houses between March 2022 and March 2023. No one can argue that the market for ultra-luxury homes in London (those priced at over $12.6 million) has never been better. 
Additionally, London is home to a large number of HNW investors, many of whom are from India. About 3.5 percent of Indians now own property in the London market. Additionally, these investors are willing to put up between £290,000 and £450,000 and are located in either the United Kingdom or India. 
Interesting! Isn't It? Let's take a look at the top six places where Indian millionaires have put down roots. 
Top 6 London Neighbourhoods for Indian

HNW
The real estate market in London is highly regarded by foreign buyers. It's of paramount importance when investing in either commercial or residential real estate. However, as the market continues to favour buyers, new data from Zoopla shows that homeowners are willing to offer discounts up to 4.5%, on average, to attract potential buyers. 
Now, let's explore the prime locations that attract the most HNW Indian investors in London. 
In 2022, Belgravia topped the list of the most expensive places to buy a home in London suburbs, thanks largely to a surge in demand from Indian investors. In addition, the average cost of an apartment in the past year was £3,209,734. 
Flats are the most commonly purchased type of home, with an average sale price of £1,906,217 in the previous year. The average sale price of a terraced house in the area was £7,120,286. The median sales price for all homes dropped 9.5% from the previous year. 
More recently, from December 2022 through May 2023, 12 houses were sold for a total of £5,218,980, while the price of the flats remained at 1.8M and around 65 flats were sold. 
The numbers accurately reflect the high cost of living in Belgravia and the substantial savings required to make the neighbourhood your permanent home. 
Reasons to Choose Belgravia: 
Belgravia is known for its stunning architecture, upscale boutiques, and trendy restaurants. 

It is the centre of attraction for HNW investors investing in London neighbourhoods. 

Easton Square and Chester Square are the most sought-after areas in Belgravia. 

You may find top-notch galleries, museums, and designer stores here. 
Rental Yield In Belgravia for Overseas Investors: 
An investor who wishes to buy a two-bedroom apartment in the heart of Belgravia has to invest around 1.4 million (as per the statistics) and may generate around 5.9% rental yield annually.   
One of the world's most affluent communities is Knightsbridge. It is filled with high-end boutiques, the grandiose Harrods department store, and exclusive banks. Knightsbridge is home to some of the world's wealthiest people and the most expensive real estate. 
The British media has suggested that Russian oligarchs and wealthy people who own property in the area are responsible for most of the wealth in Knightsbridge. The average home price in this area is £4,328,333 ($5.4 million). Over the past 12 months, the average price of a home in Knightsbridge has remained at £3,411,690. 
In Knightsbridge, flats make up the majority of recent transactions, with a median price tag of £2,308,968. Prices for terraced houses totalled £6,835,930. 
Overall, sales prices in Knightsbridge were 9% higher than the year before and 1% higher than the all-time high of £3,366,131. 
It is a sensible choice for investors who want to take advantage of London's lucrative property market because it offers a variety of high-end properties, desired amenities, excellent transit links, and a stable property market. 
Over the course of the previous year, the aggregate average price of a home in Kensington was $2,343,401. During the past year, the majority of properties that changed hands in Kensington were flats, which went for an average price of £1,481,796. Houses located in terraced housing areas sold for an average of £4,709,691, whereas houses located in semi-detached housing areas sold for £11,545,455. 
Because it is one of the most coveted and prominent locations, it draws in a diverse range of investors, wealthy individuals, and families with a high net worth. In addition to its beautiful real estate, the region boasts a variety of other attractive qualities that make it an attractive place to live. There is hardly the slightest shred of doubt in anyone's mind that the city is at the vanguard of extremely cutting-edge real estate investments. 
Over the course of the previous year, Chelsea racked up an overall average price tag of £2,387,940. Concurrently, the majority of the properties sold in Chelsea are flats, and the average price of a flat in Chelsea is currently £1,489,795. In addition, the prices of terraced properties were sold at Rs 5,139,941, while the prices of semi-detached properties were sold at £8,391,811. 
In a nutshell, the price of real estate in Chelsea has increased by 181% over the past several years, which is an increase from the previous year and a 10% increase from 2017, when it reached its all-time high of £2,175,880. 
Holland Park  
Over the last years, property prices at Holland Park, Notting Hill, and West London ranged between £2,349,750 and  
Moreover, the median rental price in Holland Park is £883 per week. One can easily understand the amount of investment you need to make to buy a property in Holland Park. Simultaneously, here are the rental prices in Holland Park in comparison to other neighbourhoods, which is understandable from the below chart represented by the
Foxtons
: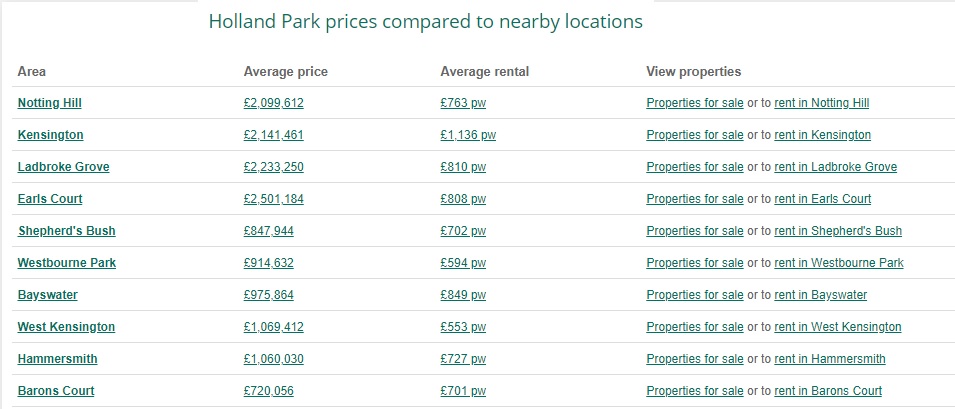 Camden  
It is an area in the London borough of Camden. It is most known for its alluring market, a warren of fashion and curiosity by the Regent's Canal. Speaking of the property price here, over the last year the price stood at £919,268. 
Similarly, like other neighbourhoods, Camden also witnessed majority sales of Flats for a median price tag of £645,732. Simultaneously, the terraced houses were listed at a price of £1,795,584. Furthermore, Camden has semi-detached homes to offer with an average price tag of £1,891,250. 
Conclusion:  
London's luxury real estate market is a shining example of what can be achieved with money and taste. Those from afar who want a taste of opulence will find a golden opportunity in the six upscale neighbourhoods that make up this magnificent city. These affluent areas are the embodiment of British refinement, with their stately homes, manicured gardens, and high-end businesses. 
Purchasing
real estate
in these prestigious areas is like taking home a piece of London's opulent past. Experience the opulence and sophistication of elite society, where grand mansions and posh boutiques are the norm. The charm of these areas is undeniable, thanks to Hyde Park and the other natural and cultural attractions found here. 
It's not only a matter of aesthetics, though; savvy investors stand to make substantial gains as well. Investing in prime real estate in these high-demand areas guarantees a regular stream of rental income and the possibility of significant capital appreciation because of the constant demand for such properties. 
Those who appreciate the finer things in life and aren't afraid of trying anything new should explore London's six affluent boroughs. Invest in the crown jewel of British opulence and enjoy the glory of the neighbourhood's high returns. The first step on the road to material success and a higher standard of living has been taken.