350,000 Bed Shortfall: Exploring Investment Opportunities in UK University Towns' Student Housing
The major university towns in the United Kingdom are struggling with a problem that presents promising potential for real estate investors and developers. Demand for student housing has far outstripped availability, with over 350,000 bed shortfall in purpose-built student accommodation (PBSA). With the predicted increase in the student population and the possibility that one million people may apply to college by 2030, it is becoming increasingly clear that deliberate investments in the PBSA sector are essential to accommodate this soaring demand. Thus, huge student housing investment opportunities are seen in the country to combat the rising student population.
Imbalance between demand and supply in University Towns
The increasing number of international students in the UK has led to a notable challenge in providing sufficient accommodation options, commonly referred to as the "bed shortfall.
Insights into the increase in the number of international students in the UK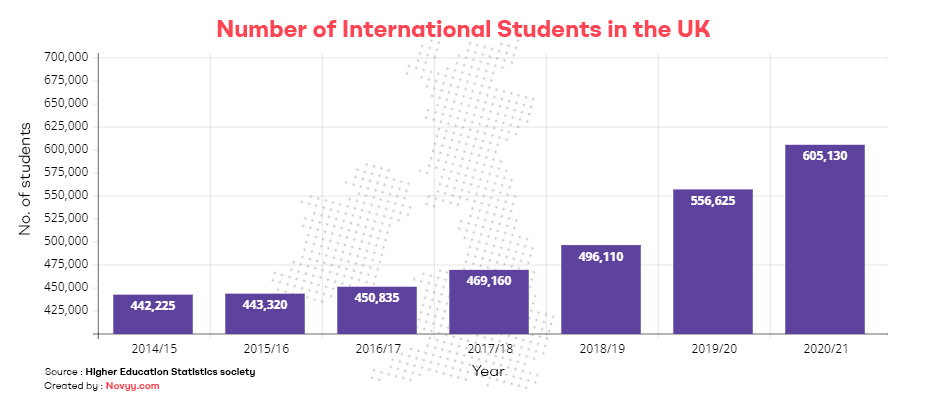 Increase in Domestic and International Enrollment 
The number of students enrolling in higher education institutions in the United Kingdom (UK) has been rising steadily in recent years. The demand for adequate housing has increased proportionally as more students enter higher education.
Limited PBSA Pipeline
The present pipeline of PBSA is insufficient to fulfil the ever-increasing numbers of students and the rising demand for student accommodation. According to Savills' findings, only around a fifth of the 144,000 beds in the PBSA pipeline have actually begun construction. This shortage emphasises the urgent need to invest in new initiatives.
Hotspot Cities and Regional Imbalances
Cities with a lot of students provide a disproportionate share of the pipeline; these cities include London, Nottingham, Leeds, and Birmingham. Nonetheless, housing shortages continue to be a problem in some cities due to demand-supply mismatches. However, the pipeline numbers are equivalent to nearly three-quarters of the existing stock in smaller markets like Newcastle under Lyme, Leamington Spa, and Ipswich, which exacerbates housing shortages in these areas.
Practical Challenges for Students and Parents
The lack of available student housing presents problems in the real world for both students and their parents. Finding affordable housing can be a stressful task that can have a negative effect on a student's overall college experience.
Effects on University Towns
The standard of student housing that a university offers has a significant impact on both its reputation and its capacity to draw in new students. Universities with poor housing alternatives may find it tough to compete with others, affecting their recruitment efforts.
Student Retention and Belonging
A sense of community and belonging among students is crucial to their retention, and accommodation plays a key role in this. Retention rates, academic performance, and student satisfaction can all benefit from a community that encourages students to stay in University.
Student Well-being
It is especially important for students' mental health and well-being throughout the transition to college life that they have access to adequate and suitable housing. The difficulties of moving out, handling finances, and adjusting to a new routine can be mitigated if people have safe and comfortable places to live.
Impeding Growth Strategies
When there is a shortage of student housing, universities' plans to expand and attract more students run into roadblocks. The current state of the economy and the decrease in student options for private housing are obstacles to university expansion plans.
Competition with Non-Students
There is rivalry for available accommodation between students and non-students because of the widespread housing shortage and the rising popularity of Airbnb lettings. More complexity has been added to the housing market thanks to local laws and the Renters Reform Bill, which have increased the demand for student housing.
Student Housing Investment Opportunities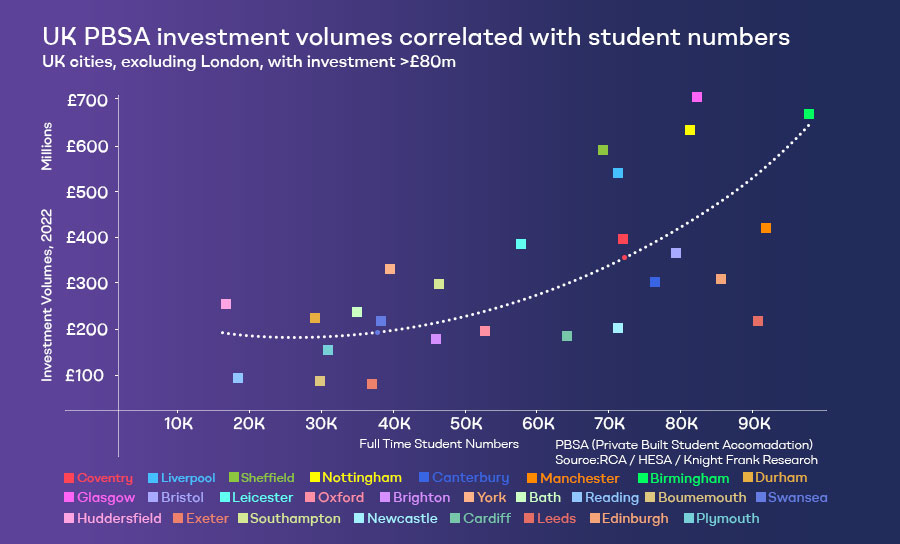 Demand is on the rise, and the number of prospective students in the United Kingdom is expected to exceed one million by 2030, creating a sizable market for PBSA. Investors can meet the needs of the growing student population by providing more and better housing.
The drop in European Union students after Brexit has been more than made up for by a meteoric increase in students from nations like India and China. This creates an opportunity for business people who want to cash in on the growing demand for PBSA among international students.
Companies like Empiric and Unite, which project occupancy rates of 99% in 2022, demonstrate the strong rental growth and record occupancy that bode well for investors and operators in the student housing market. Strong rental growth over the past year adds to PBSA's allure as an investment destination.
Decreases in tender price inflation are expected in 2023 and 2024, making the creation of new PBSA shares more economically feasible. Because of this, developers can overcome obstacles like high land and building expenses, making their projects more attractive to investors.
Cities with substantial student populations, such as Coventry, Manchester, London, Nottingham, Leeds, and Birmingham, are seen as favourable for PBSA development. High occupancy rates and increasing demand for high-quality student housing make these cities an appealing investment option.
Conclusion
Investors and developers should take note of the demand-supply gap in student housing in the United Kingdom's major University towns. Strategic investments in PBSA can reap substantial dividends because of the rising student population and increasing demand for high-quality accommodation. Investors have the ability to affect the future of the student housing market while reaping long-term benefits as the gap between demand and supply for student accommodation becomes increasingly obvious. The increasing demand for student housing in the UK has made PBSA an attractive investment option for individuals seeking long-term growth and security in the market.